BBC Savile abuse: Dame Janet Smith review 'due in May'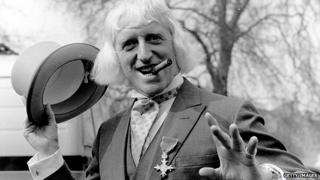 A report into how Jimmy Savile and Stuart Hall carried out abuse while at the BBC is due to be published in May, the review's author has said.
Dame Janet Smith will look at how Savile and Hall carried out campaigns of abuse over decades while at the BBC.
The investigation has interviewed 375 witnesses in connection with Savile and more than 100 about Hall.
In February a separate report concluded Savile abused at least 63 people connected to Stoke Mandeville Hospital.
In May Stuart Hall was sentenced to an extra two years and six months in prison for two counts of indecently assaulting a girl.
He was already serving a 30-month jail term after he pleaded guilty in 2013 to indecently assaulting 13 other girls, aged between nine and 17, over a 20-year period.
'Discussing a timeline'
Dame Janet Smith's Review was set up in October 2012 by the BBC to carry out an impartial review of the culture and practices of the corporation during the years Savile worked there.
The former BBC presenter was revealed to be a prolific sexual predator who abused adults and children across the country after allegations against him first emerged in 2012, a year after his death.
The NSPCC said Savile was the one of most prolific sex offenders in its history.
The revelations prompted the Metropolitan Police to launch Operation Yewtree, set up to investigate historic sex offences.
Shortly after Hall was convicted of 14 charges of indecent assault in May 2013, the BBC announced a further investigation into the former It's a Knockout presenter.
The investigation into Hall, led by retired High Court judge Dame Linda Dobbs, will feed into Dame Janet's review.
A statement on the review's website said it would not be accepting any further evidence and the report was being finalised.
It said the review was "discussing a timeline for delivery" but publication of the report was expected in the second half of May.
Members of the review visited the court during Hall's trial and also visited the Shepherds Bush Empire Theatre, which was owned by the BBC, and Television Centre.
An independent investigation, published last month, said NHS hospitals had still not fully learned the lessons of the Savile sex abuse scandal.
It said the entertainer was given "endorsement from the very highest level of society" after the then prime minister Margaret Thatcher gave him an official fundraising role at Stoke Mandeville Hospital.