Metropolitan Police probed over child abuse 'cover-up' claims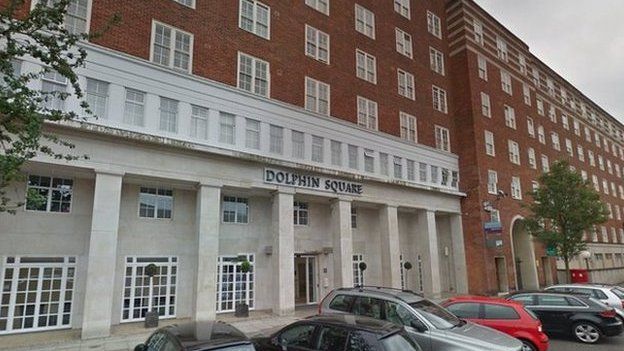 The police watchdog is investigating alleged corruption in the Metropolitan Police, including claims it covered up child sex offences because MPs and police officers were involved.
The Independent Police Complaints Commission is investigating 14 referrals spanning four decades.
It said the claims were of "high-level corruption of the most serious nature".
The Met said it had voluntarily referred the allegations, which arose from an investigation launched in 2012.
The investigation, known as Operation Fairbank, is looking into historical child sex abuse claims involving politicians and other public figures.
Peter Saunders, chief executive of the National Association for People Abused in Childhood (Napac), said the corruption allegations could lead to "absolutely massive" revelations.
He said people calling their helpline had made allegations about "high-profile" people, including politicians, for years and that he had wondered "if the truth was ever going to come out".
A potential cover-up linked to "failures to properly investigate child sex abuse offences in south London and further information about criminal allegations against a politician being dropped"
A claim that an investigation into young men being targeted at the Dolphin Square flats in Pimlico, south-west London, was halted because "officers were too near prominent people"
An allegation that a document from the Houses of Parliament was found at a paedophile's address linking "highly-prominent individuals", including MPs and senior police officers, to a paedophile ring but no further action was taken
Alleged alteration of a child sex abuse victim's account to remove the name of a senior politician
Alleged child sex abuse by a senior politician and a subsequent cover-up of the alleged crimes
Claims that a surveillance operation of a child abuse ring was shut down due to "high-profile people being involved"
An allegation that police officers sexually abused a boy and carried out surveillance on him
Labour MP for Rochdale Simon Danczuk told BBC Radio 4's World at One the investigation was a "significant development".
Mr Danczuk, who had been calling for such an inquiry, said: "We are on the cusp of finding out exactly what went on in the 70s and 1980s and, I'm sorry to say, I think it will be shown that senior politicians were involved in abuse and there was a cover up. I think that's inevitable now."
The former Daily Mirror crime correspondent Jeff Edwards has recently been contacted by the police. He says he was told by a detective in the 1980s that an investigation into paedophiles was closed on the orders of a senior politician.
"I think this was a cynical cover up," he said. "There was no doubt in their minds the way they would deal with this was simply to expunge it from the record. As far as they were concerned they could make it go away forever."
Labour MP John Mann has also been providing information.
"Having looked and heard other evidence, spoken to other police officers and those in authority who were stopped from investigating, without question there were repeated attempts, successfully at the time, to stop investigations into prominent people and MPs involved in child abuse," he said.
BBC home affairs correspondent Tom Symonds said the allegations would take "a lot of people and a lot of time to investigate".
"Looking into the past is very difficult and time consuming," he said. "Although we have the allegations, we don't know how strong the evidence is and the key is in the evidence."
The IPCC will "manage" an investigation that was already being conducted by the Met Police's Directorate of Professional Standards into the alleged corruption.
A further two referrals of a similar nature have been received from the Met Police and are being assessed, the IPCC said.
The force said in a statement it "recognised the severity of the allegations, and the importance of understanding whether or not our officers had in the past acted inappropriately".
Peter Garsden, president of the Association of Child Abuse Lawyers, said those who had suffered abuse themselves would want the inquiry to be conducted transparently.
He told the BBC: "They will believe that even this investigation, I suspect, will be yet another cover-up. So it's very difficult to persuade them that everything is being done."
Shadow home secretary Yvette Cooper said: "It is worrying that this is not a fully independent investigation. Instead the Met will lead this work with oversight from the IPCC.
"Surely this should be done by an independent investigator or, at the very least, an alternate force."
The other allegations that form part of the IPCC investigation are:
An allegation that an investigation into a paedophile ring that led to a number of convictions did not take action "in relation to other more prominent individuals"
A claim that a politician spoke to a senior Metropolitan Police officer to demand no action was taken regarding an alleged paedophile ring in Westminster in the 1970s
An allegation that in the late 1970s a surveillance operation that gathered intelligence on a politician being involved in paedophile activities was closed down by a senior Met Police officer
A claim that a dossier of allegations against senior figures and politicians accused of being involved in child abuse was taken by Special Branch officers
Allegations that a senior officer instructed that a sexual abuse investigation should be halted, with the order having come from "up high" in the Met
An alleged conspiracy within the force to prevent a politician suspected of offences from being prosecuted
Child sex abuse allegations against a former senior Met Police officer with other "members of the establishment", including judges, alleged to have been involved. It is claimed no further action was taken