Prisons in England and Wales 'to get drugs scanners'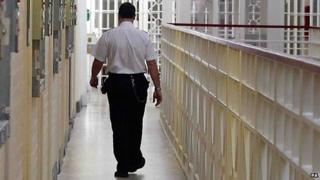 A new generation of drugs scanners is to be purchased for prisons in England and Wales, the BBC understands.
Justice Secretary Chris Grayling is said to have made the decision because of continuing problems with drugs being smuggled into jails.
It comes as independent think tank the Centre for Social Justice released a report saying the X-ray scanners had been a "game changer" in US prisons.
But critics said intervention and drug treatments would be more effective.
The cost of installing the scanners in every prison in England and Wales is estimated to be about £15m.
'Awash with drugs'
As well as being smuggled by visitors, prisoners and corrupt staff, drugs can be sent through the post or thrown over prison walls.
Manual searches are currently conducted in most prisons, making it difficult to detect illegal substances and so-called legal highs that have been swallowed or concealed within someone's body, according to the CSJ.
The report says low-dosage X-ray machines would be able to detect if people are smuggling drugs under clothing or inside the body and should be used on prisoners and visitors as well as a tenth of prison staff a month.
The CSJ, which spoke to over 120 prison experts and prisoners for the review, said drug use was "rife" and found 31% of prisoners said it was "easy" to get hold of drugs in prison.
Figures from the Ministry of Justice show the number of drug seizures have increased from 3,700 in the year to March 2011 up to nearly 4,500 in 2013-14.
But fewer than 100 visitors trying to bring drugs into prisons were identified through searches last year, the CSJ said.
---
Analysis
By Danny Shaw, BBC home affairs correspondent
The CSJ makes a compelling case for prison body scanners - and it appears Chris Grayling is convinced as well.
He's aware that long-standing problems of drug abuse in jails have been exacerbated in recent months by legal highs known as Spice and Black Mamba - which have led to drug debts, bullying, violence and health emergencies.
However, questions remain as to whether the technology and training required are affordable, given how stretched prison budgets are, and if the scanners are risk-free, since individuals will be exposed to radiation each time they step through one.
The CSJ cites evidence suggesting the radiation dosage is so low that it's safe to use on prisoners 1,000 times a year.
Some testing and trials may be required before they become as common in our prisons as they are in the US.
---
'Not complacent'
Edward Boyd, deputy policy director of the CSJ and the report's editor, said drug use in prisons was "leading to greater addiction and more crime".
But Frances Crook, Chief Executive of the Howard League for Penal Reform, said scanners would not solve the problem.
"If we want to reduce addictions we need to provide skilled and long-term support, not squander public money on technological toys," she said.
The CSJ also found the use of so-called legal highs - or New Psychoactive Substances (NPS) - had seen a dramatic rise but that prisoners were not tested for the substances.
There were 15 seizures of Spice, the main NPS, in 2010, but in the first seven months of 2014 alone there were 430 seizures, according to the report.
It recommended it should be made illegal to bring any NPS into prisons. It also called for smoking to be banned in prisons so that other prisoners and prison staff were not exposed to Spice through passive smoking.
Stephen O'Connell, president of the Prison Governors said drugs and NPS are definitely affecting stability in some prisons.
"Prisoners who otherwise have never shown any propensity to violence suddenly become violent - assault the staff, assault other prisoners - but also harm themselves," he said.
"We've had some bizarre incidents of prisoners thinking they can fly and throwing themselves off landings."
Prisons Minister Andrew Selous said drug sniffer dogs were currently helping to reduce the amount of drugs in prisons and they were being trained to detect legal highs.
"The number of prisoners testing positive for drugs has significantly reduced over the past 15 years, but we are not complacent," he said.
"We are committed to investing in different detection technology, including body scanners, to tackle this issue."
Mark Day from the Prison Reform Trust said: "Technology has its part to play in tackling illicit drug use in prisons but is only part of the solution. Investment in early intervention and treatment in the community is vital to help addicts beat addictions and preventing drug related crime."