Young offender rehabilitation staff criticised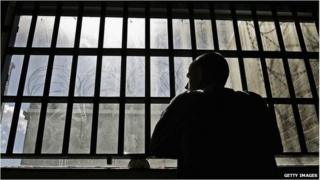 Work to stop young offenders committing more crimes after their release from custody is hampered by "distrust" among the staff responsible, inspectors say.
A report by three inspection bodies said workers at custodial institutions and those responsible for preventing reoffending in England and Wales were "too often suspicious of each other".
This sometimes led to a "passive acceptance of failure", it added.
The Youth Justice Board said it was already addressing many issues raised.
The report, by HM Inspectorate of Probation with the Care Quality Commission and Ofsted, examined "resettlement services" for young offenders - those aged 10-17.
'Vague' plans
Inspectors found a "surprising amount of distrust" between staff working with young people in custody and youth offending teams which "stay in touch" during custodial sentences then work with offenders after their release.
"In some cases this led to a passive acceptance of failure; for example that accommodation could not be arranged within an appropriate timescale, or that vague education, training and employment plans were good enough," the report said.
"Neither set of staff seemed prepared to challenge each other on behalf of the child."
The report also found:
"Too many" children had been arrested again within months or even weeks of their release
Much of the work done in custody was "not linked to giving children the best chance to stop offending"
Some "promising" local resettlement projects exist, but resettlement work "often started too late"
There were examples of "excellent work" in custody and in the community, leading to successful resettlement and no reoffending
The report said preparation in the community while an offender was still in custody was "not proactive".
"Sometimes, having meetings and putting plans on a database had become ends in themselves; children recognised that and had become frustrated and disengaged," it said.
'Shocking' statistics
Figures from 2013 suggested more than two thirds of children reoffended within 12 months of release, and of 29 children tracked by the report only a quarter "fully complied with their supervision".
Deputy Chief Inspector of Probation Alan MacDonald said: "These are shocking statistics.
"We have known for at least a decade what helps children leaving custody to stop offending.
"Too few of these children are being provided with what they need to lead crime-free lives."
He said resettlement work must start sooner, especially to ensure accommodation and work or training.
"It is possible for the lives of many children who have offended to be turned around," he said.
"It will need all the component parts to work to ensure children get the right support they need to stop offending and that, importantly as a result, there are fewer victims of crime."
Lin Hinnigan, chief executive of the Youth Justice Board which oversees youth justice services, said: "The successful resettlement of young people leaving custody is a key priority for the YJB and we welcome the findings within this report."
She said she was "pleased" the YJB's strategy "is already aligned to, and addressing, many of the issues that the report raises".
The YJB was putting resettlement "at the heart" of its work, she added.