Chelsea Paris Metro chants: Five men due in court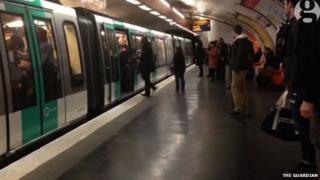 Five men have been ordered to appear before magistrates following racist taunts on the Paris Metro ahead of a Chelsea game in the city last month.
Scotland Yard said the summonses related to a police application for football banning orders.
Controversy erupted when Chelsea fans were filmed singing racist chants and refusing to let a black man on a train.
The five summonsed men must appear at Waltham Forest Magistrates' Court in London on 25 March.
'Humiliating'
The Metropolitan Police's application follows an incident in which several Chelsea fans were filmed ahead of a Champions League match against Paris St Germain on 17 February.
Mobile phone footage recorded at Richelieu-Drouot station by a British expatriate showed a black man being pushed from the train while a group chanted: "We're racist, we're racist and that's the way we like it."
The man who was trying to board the train has been identified as 33-year-old Souleymane S, who said the whole episode was "humiliating".
Chelsea apologised and invited him to attend the return match but he turned the club down.
The game in Paris ended in a 1-1 draw and the second leg is due to be held later.
According to the Home Office, banning orders are issued by British courts following a conviction for a football-related offence, or after a complaint by the Crown Prosecution Service or a local police force.
They are imposed under civil not criminal legislation, although a breach of an order can result in a prison sentence of up to six months.