Election debates row: Broadcasters 'playing politics' - Lord Grade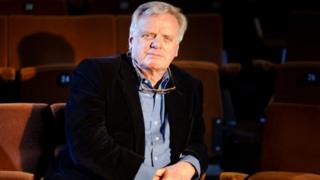 Broadcasters are breaching impartiality rules and "playing politics" in the row over election debates, says Lord Grade.
The ex-BBC, ITV and Channel 4 boss said it was "not acceptable for unelected journalists" to replace David Cameron with an "empty chair" if he refused to take part in any televised debates.
The Conservative peer told the BBC "there was no divine right to have election debates".
The PM says he will take part in one TV debate, but three are planned.
The organisers of a proposed digital debate have sought to break the deadlock by offering to bring forward their date, to meet the PM's deadline.
YouTube, the Guardian and the Daily Telegraph are proposing to stage the debate - which would include the leaders of the Conservatives, Labour , Lib Dems , UKIP and the Greens - on either 26 or 27 March.
Downing Street have said "they will look at" the proposals.
Conservative Party chairman Grant Shapps told the BBC's Daily Politics a digital debate seemed a "plausible" way forward.
UKIP Leader Nigel Farage said: "Scrutiny is an important part of democracy, and for this reason I am delighted to accept the Telegraph/Guardian/YouTube invitation to this debate - so that I can make the case to the British electorate on why they should vote UKIP.
"I hope that the prime minister will muster up the courage to stand by his own words, and show up to try and defend his record in government."
Lib Dem general election co-ordinator Lord Ashdown said the party remained committed to election debates and would consider the digital debate proposal.
But he said the prime minister should not be able to let it excuse him from taking part in the equivalent TV debates.
Labour has yet to respond to the digital debate offer.
'Empty chair'
The BBC, Sky, ITV and Channel 4 plan to hold the live televised debates in April - two featuring the leaders of Conservatives, Labour, the Liberal Democrats, the SNP, Plaid Cymru, UKIP and the Green Party, then one with only Mr Cameron and Labour leader Ed Miliband.
The Democratic Unionist Party (DUP) is to call for an independent body to be put in charge of television election debates after it was excluded from the TV debate plans.
The party, the biggest in Northern Ireland and the fourth largest in the House of Commons with eight MPs, will use parliamentary time in Westminster to discuss the proposals.
But Mr Cameron has said his "final offer" is to take part in a single debate of seven party leaders before 30 March, but the broadcasters say the debates will go ahead with or without him.
Other parties have criticised Mr Cameron - accusing him of "cowering" and being "scared" - and Mr Miliband has said broadcasters have the right to "empty chair" the PM if he does not attend.
---
Planned debate schedule
2 April: Seven-way debate featuring David Cameron, Ed Miliband, Nick Clegg, Nigel Farage, Nicola Sturgeon, Natalie Bennett and Leanne Wood (ITV broadcast)
16 April: Seven-way debate featuring David Cameron, Ed Miliband, Nick Clegg, Nigel Farage, Nicola Sturgeon, Natalie Bennett and Leanne Wood (BBC broadcast)
30 April: Head-to-head debate featuring David Cameron and Ed Miliband (Channel 4 and Sky News broadcast)
---
Writing in the Times, Lord Grade said if broadcasters could not persuade one party leader to participate in a debate, it "cannot go ahead".
He said: "Ah, I hear the broadcasters retort, that would give one party leader a veto on any broadcast. Yes it would, and so what?"
He said placing an empty chair to represent Mr Cameron would be a "political act, in direct contravention of [the broadcasters'] duty of impartiality".
'Rattled'
Mr Cameron was "entitled" not to take part in any debate and people were "free to comment on the choice he makes", Lord Grade added.
He said the broadcasters' behaviour suggested they had "grossly inflated ideas of their own importance" - and they should "get back in their box, where normally they do a phenomenal job holding us all to account".
Speaking on BBC Radio 4's Today programme Lord Grade said there was "no divine right" to have election debates, which he called "a voluntary exercise".
He said: "The idea that broadcasters can threaten politicians with empty chairs, real or imaginary, is completely unacceptable and against the statutory requirement for impartiality."
However, Labour described Lord Grade's criticism of the broadcasters over the TV debates as "a desperate move."
A Labour source said the intervention by Lord Grade showed the prime minister was "rattled".
"This shows how rattled David Cameron is over the TV debates. It is a desperate move to send out a Tory peer to try to bully the broadcasters," they said.
Lord Grade was chief executive of Channel 4 from 1988-97, chairman of the BBC from 2004-06 and executive chairman of ITV from 2007-09.