WW2 pilot's wedding ring returned to sister after 70 years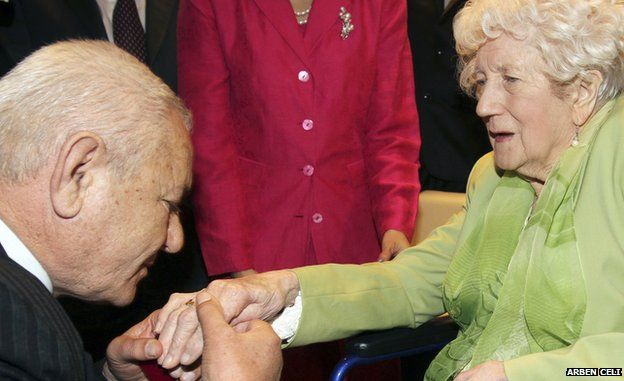 The 92-year-old sister of a World War Two pilot who went missing in action has been reunited with his wedding ring after more than 70 years.
Flt Sgt John Thompson's plane crashed in the mountains in north-east Albania while on a "secret mission" to aid local anti-Nazi fighters in 1944.
Local man Jaho Cala found the ring in 1960 and kept it - afraid to show it to the then-communist authorities.
His son has now returned it to Flt Sgt Thompson's sister, Dorothy Webster.
She travelled to the Albanian capital, Tirana, for a special ceremony at the country's Ministry of Defence to collect the ring, along with a small box of debris from the plane wreckage.
"Seventy years we've waited. We can't believe that we're here today celebrating this after all this time,'' she said.
Flt Sgt Thompson was a special operation flight engineer from Matlock in Derbyshire.
His Handley Page Halifax bomber plane, with a seven-member crew from 148 Squadron onboard, crashed north-east of Tirana on 29 October 1944.
His nephew, Brian Webster, said British authorities never told the family anything about what happened because he was part of "a secret operation".
After his disappearance, his grandparents never locked the door of their house in case their missing son came home, he said.
"My father would have been thrilled to pieces with it all," Ms Webster said as she was given the ring.
The ring was discovered by Mr Cala in late 1960 on the Sinoi Mountain while he was collecting metal and wood.
He kept the ring and hid it at his home, afraid to show it to the authorities of the time.
His son Xhemil recalled his wedding day, when his father gave him the ring saying: "This is not mine and is certainly not yours; it has a rightful owner, who you will have to find in due course."
After his father's death, he contacted the embassies of the US and Britain - the two countries that helped liberate Albania from the Nazis a month after Flt Sgt Thompson's death.
Three months later, the British embassy confirmed the ring was Flt Sgt Thompson's, and contacted his family.
They traced the ring through its inscription, which read "Joyce & John". The couple were newly wed at the time of Flt Sgt Thompson's disappearance.
Joyce later remarried, and has since passed away, his family said.
"All these years it has been a story of loss," said his nephew Alan Webster.
"We now know almost everything that happened. It's a sense of closure. We know where John is. He's over there in the mountain."
The family said they planned to return to Albania in a few months to visit to the crash site.
Xhemil Cala said he was relieved to have fulfilled his father's wish that the ring be reunited with its owner's family.
"I will go to his grave and say rest in peace for your dying wish has been fulfilled," he said.
Albania was first occupied by fascist Italy in 1939 and then by Nazi Germany in 1943.
Led by the communist party, its partisans liberated the country on 29 November, 1944.
Speaking at the ceremony, Albanian Defence Minister Mimi Kodheli said: "Your brother, Mrs. Webster, helped liberate my country. Let his memory remain unforgettable."