Police 'called by parents to discipline children', report finds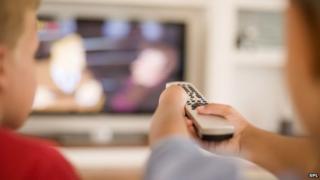 Parents are frequently calling the police to discipline their disruptive children, a report has said.
Children were often detained when parents and care homes could not cope, said Her Majesty's Inspectorate of Constabulary for England and Wales.
The report found vulnerable children and adults were being locked in police cells as a substitute for social care.
A girl who had fought with her sister over a TV remote control was among those held in police cells, it said.
Home Secretary Theresa May said more needed to be done to tackle the issue.
Dementia sufferer
Inspectors spoke to police officers who said they were "called frequently to deal with incidents where parents or children's homes could not cope with a child's disruptive behaviour and sought to use the police as a way to discipline children".
Among those arrested was a 17-year-old boy who had pushed his step-father and damaged a garden fence and a 13-year-old boy arrested for common assault on his 11-year-old sister.
The boy had been in care since he was six and remained in custody for more than 10 hours.
The report said front-line police officers and custody officers were spending significant amounts of time caring for people who were mentally unwell and, on too many occasions, police were the default response for vulnerable people in crisis.
It expressed concern that when officers were left with no other option, they resorted to detaining vulnerable people in police custody in order to get them the support they needed.
Police were called to an incident where a 90-year-old man, suffering from dementia and recently discharged from hospital, had become violent towards staff and other residents in a residential care home, causing damage to property.
A police inspector spoke at length with the man and attempted to help him leave but because he would not go with the officer voluntarily and continued to be violent, he was arrested and taken into custody.
There was no bed available at the hospital so he spent the night in a cell and was eventually taken to hospital in a police car.
'Different needs'
The report, which was commissioned by the home secretary, also expressed concern that people from African-Caribbean backgrounds were more likely to be strip-searched in police custody than any other ethnic group.
The majority of people detained by the police were reasonably well cared for but inconsistency of practices led on occasion to poor treatment, the report found.
HM Inspector of Constabulary Dru Sharpling said: "There can be no argument that the needs of a child, left abandoned by his or her parents, or a person in the midst of a mental health crisis, are often very different to those of a serial offender.
"Yet the bricks and mortar of the police cells do not and cannot make that distinction.
"I think the public would be surprised to learn that police cells are very often full of vulnerable adults and children, rather than suspects accused of serious crimes."
'First resort'
College of Policing lead for crime and criminal justice Dave Tucker said: "While health, social care and children's services can and do refuse to admit vulnerable people into their care, the police do not have this option.
"Too often police are being used as the service of first resort, rather than the service of last resort and it's encouraging that HMIC acknowledge that police custody should not be the default option for vulnerable people in need of care."
HMIC was asked to look specifically at the treatment of children, people who were mentally unwell and people from black and minority ethnic backgrounds.
Mrs May said the report showed how much more needed to be done to ensure those who end up in police cells receive proper treatment and respect.
"Working with police forces, we already have a range of work under way to tackle some of the issues HMIC have highlighted, including improving data collection on the use of police powers in relation to people with mental ill health and the use of force, as well as reviewing police training on these issues," she said.
"We will review HMIC's findings and recommendations carefully to see how they can inform this work, and respond in due course."