Charities no longer funding Cage, says Charity Commission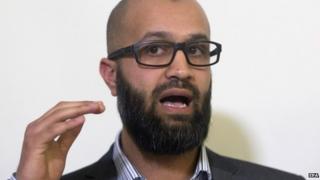 Advocacy group Cage is no longer being funded by two UK charities, according to the Charity Commission.
Cage has been criticised for suggesting MI5 may have helped cause the radicalisation of Mohammed Emwazi.
The commission says it has been talking to the Roddick Foundation and the Joseph Rowntree Charitable Trust since 2013 about their links with Cage.
It has now received assurances from the charities that they have ceased funding the group and will not do so in future.
In a statement following the announcement, Cage said it respected the decision and thanked the charities for their support.
Its research director Asim Qureshi has previously said Emwazi, a 26-year-old from London dubbed Jihadi John by some news media, was harassed by the secret service.
Emwazi has been named as the Islamic State militant seen in videos which show hostages being beheaded.
Mr Qureshi has also said Cage was "horrified" by Islamic State's killings and insisted his comments were "not about sticking up for" Emwazi.
'Damaging trust'
The Joseph Rowntree Charitable Trust told the Charity Commission that it made grant awards to Cage of £305,000 between 2007 and 2014 - of which £271,250 was paid.
The Roddick Foundation said it made grant payments to Cage of £120,000 between 2009 and 2012.
The Charity Commission said in a statement: "In recent days a great deal of media and public attention has focused on Cage, which describes itself as an advocacy group.
"Cage is not a charity but has been in part funded by British charities. As it is not a charity and given the nature of its work, and the controversy it has attracted, the Charity Commission has been concerned that such funding risked damaging public trust and confidence in charity.
"As the regulator of charities, we expect all charities and trustees to ensure that all charitable funds are used according to their charity's purposes and in the way that the public would expect."
Relationship scrutiny
The commission said it had "scrutinised" both charities' relationship with Cage since December 2013.
This included "analysing whether the grants were appropriate and whether the trustees had ensured that their charitable grants were used for exclusively charitable purposes in line with their charity's objects".
It went on to say that Cage's recent public statements regarding Emwazi heightened its concerns about the use of charitable funds to support their activities.
The commission added: "In our view, those statements increased the threat to public trust and confidence in charity and raised clear questions for a charity considering funding Cage's activities as to how the trustees of those charities could comply with their legal duties as charity trustees.
"In these circumstances, the commission took robust action and on Monday 2 March 2015 required further unequivocal assurances from the two charities that they have ceased funding Cage and had no intention of doing so in the future."
Cage said Emwazi had sought its assistance after being interrogated by a British security official in the Netherlands following an attempted visit to Tanzania in 2009.
'Cold War'
Cage describes itself as "an independent organisation working to empower communities impacted by the War on Terror" and has spoken out against the UK's anti-terrorism laws.
Its statement following the announcement by the Charities Commission said: "We respect their decision. We thank them for their past support.
"Both of these charities have played a significant role in contributing to the development of Muslim civil society here in the UK.
"We anticipated this decision ever since William Shawcross, a leading member of the neo-conservative think tank, Henry Jackson Society, took over the Charity Commission.
"This is just another manifestation of their objective of pursuing a Cold War on British Islam."
Mr Shawcross resigned his membership of the Henry Jackson Society when he became chairman of the Charity Commission in October 2012.
The society describes itself as a "think tank and policy-shaping force that fights for the principles and alliances which keep societies free".