Wind-up radio inventor Trevor Baylis appointed CBE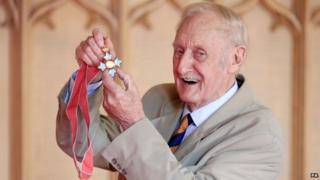 The inventor of the wind-up radio says being appointed CBE by the Queen was "like catching up with an old mate".
Trevor Baylis, 77, who has fought for theft of ideas to be made a criminal offence, was honoured for services to intellectual property in a ceremony at Windsor Castle.
Also honoured was ex-Cheltenham Racecourse director Edward Gillespie, appointed OBE for services to racing.
Both were named among others in the 2015 New Year's Honours list.
Mr Baylis, from Twickenham, south-west London, is best-known for the Baygen clockwork radio, which he invented in 1991 while watching a documentary about Aids in Africa that proposed using educational radio programmes to tackle the virus's spread.
He was previously awarded the OBE for his radio design.
But he has said he received almost none of the profits because others took advantage of patent laws to sell versions of his invention.
He now advises inventors on developing their ideas, and campaigns to make theft of intellectual property a "white-collar crime".
Curriculum call
Speaking after the ceremony, he said: "I don't want people to think that inventors have to have a Viennese accent, broken glasses and have got to be a genius.
"We are all inventors, irrespective, and it should be part of the national curriculum. I am pushing and pushing so that kids have a good chance to bring their ideas to market.
"It is amazing how invention can change so many people's lives, both socially and commercially, but we should take them seriously.
"We must protect them. We want UK Plc to be behind them."
He also recounted the discussion he had with the Queen during the ceremony, about one of his radios.
"She said, 'I have still got one of your old radios, Trevor.' I said, 'Oh, I'm so pleased about that. Is it still working?' and she said, 'Yes.'"
Racecourse development
Mr Gillespie, 62, was Cheltenham director for 32 years until he stood down in 2012.
He said he was "extremely honoured, thrilled and pleased for the hundreds and thousands of people for whom Cheltenham is a massive part of their pleasure and leisure".
Speaking of his conversation with the Queen, he said: "She asked me whether I missed the race course, having been there for so long, and we had a brief conversation about the investment going on at the moment in the new grandstand being built, and happily the fact that her diary arrangements on Friday will hopefully allow her to watch the Gold Cup on television."
Also being honoured was Heather Shepherd, of the National Flood Forum, appointed MBE for services to the community, particularly those at risk of flooding.
Andrew Wallis, curator of the Guards Museum in London, was appointed MBE for services to the commemoration of national heritage and charity.