Ten-minute leeway rule for council car parks in England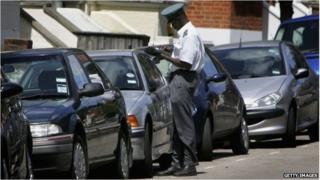 Drivers in England will get 10 minutes' grace before being fined if they stay too long in council-owned car parking spaces, the government has announced.
It is one of several changes, expected to take effect later this month, which include new restrictions on the use of CCTV cars issuing automatic fines.
Communities Secretary Eric Pickles said he wanted to end the "war on drivers"
But councils said many already allowed 10 minutes' leeway and raised concerns about the safety of other changes.
---
Analysis
By political correspondent Chris Mason
This announcement has been met with a multi-storey car park's worth of scepticism in local government and among those who run car parking - in terms of both its timing and practicality.
"We've had a clear steer from civil servants - this is all about headlines," muttered one senior figure in local government, who observed dryly that Westminster politicians soon have an appointment with the electorate.
Should national government concern itself with how late back from the bakery you can be without getting a ticket?
Your view is probably determined by whether you've returned with your jammy doughnut to discover you've got an unwelcome fine as well as sticky fingers.
But what happens to a 15 minute parking slot, when you have a 10 minute grace period?
It almost doubles in length. So would those short, cheap time slots just get scrapped?
These are exceptional examples, a government source told me. "You've got to draw the line somewhere. This is about common sense."
---
'Roads chaos'
The changes include:
guidance for councils reminding them they are banned from "using parking to generate profit"
a right for residents and businesses to demand - by a petition - that a council "reviews parking in their area"
new powers for parking adjudicators so they can "hold councils to account"
protection to stop drivers being fined after parking at out-of-order meters
a ban on the use of CCTV "spy cars" except in no-parking areas such as bus lanes and near schools
Mr Pickles told BBC Radio 4's World at One programme he was influenced by a "dreadful" personal experience with a parking attendant which made him a "very bitter person".
He said: "We are ending the war on drivers who simply want to go about their daily business.
"For too long parking rules have made law-abiding motorists feel like criminals, and caused enormous damage to shops and businesses.
"Over-zealous parking enforcement undermines our town centres and costs councils more in the long term."
Councillor David Sparks, chairman of the Local Government Association said the government should be concentrating more on road safety issues rather than "looking to micromanage parking".
He said: "Many councils already allow grace periods of 10 minutes for drivers who overstay their parking ticket. Equally, councils know parking restrictions cannot be used to make a profit but are there to stop chaos on our roads.
"We are concerned that government has rushed through today's announcement and failed to fully consult councils on the detail of the regulation."
He said he was concerned about the decision to ban the use of CCTV on zebra crossings.
"Beyond the headlines, what is particularly worrying is the detail of these proposals which could make roads less safe for vulnerable pedestrians and inconvenience millions of motorists and commuters," he said.
According to figures from the RAC Foundation, councils in England made a combined surplus of £667 million from their on and off-street parking operations in 2013-14.
By law, any surplus councils make from parking fees must be ploughed back into transport projects such as road improvements.
Westminster Council, which made a £51m surplus from parking fines, said it already applied a "common-sense approach to parking".
Leith Penny, the Conservative-led council's executive director for city management, said: "Any guidance from central government that sees a consistent adoption of this fair and common sense approach across the country is welcomed."
But Graham Chapman, deputy leader of Labour-run Nottingham Council said: "Why is Eric Pickles trying to dictate what is the minutiae of what is local government decision making just prior to the election?"
He told Radio 4's The World at One programme it was at odds with other government policy to "devolve massive powers including clinical health commissioning" in some local authority areas.
He said the economic effects of the change would be "marginal" but the real impact would be in managing traffic flow and congestion in the High Street.
'Ease tensions'
Director Prof Stephen Glaister said motorists did not care how parking regulations were enforced as long as it was done fairly.
"For such a minor part of our lives parking generates a huge amount of frustration and anger," he said.
"Allowing a grace period will help ease tensions and make everyone's lives easier.
"The shame is that we have required ministerial intervention to tackle the 'rules are rules' culture which can result in heavy handed and disproportionate penalties."
The changes come from new laws, guidance to councils and use of a statutory instrument - through which ministers can make rules without an act of Parliament.
AA president Edmund King also welcomed the announcement.
He said: "This is a common sense move. All too often there are discrepancies between the car clock, the civic clock, the pay-and-display clock, the parking attendant's clock and the driver's watch, which all result in disputed tickets.
He added it was counter-productive to have parking attendants "hiding in doorways to issue tickets the minute a ticket runs out, as this deters drivers from shopping in the high street".