Police tackle serious crimes with 'slap on wrist', MPs warn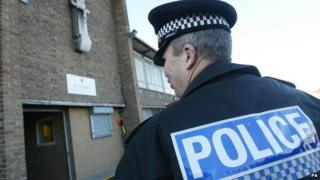 Too many offenders in England and Wales are given "just a slap on the wrist" for serious crimes, MPs have argued.
Police cautions and other methods of resolving crimes out of court were used "inappropriately" in some 30% of cases, a Home Affairs Committee report said.
In some cases, cautions were used to deal with violent or sexual crimes, and repeat offenders, the committee found.
The Ministry of Justice said it had already announced plans to scrap the use of cautions in England and Wales.
Out-of-court disposals (OOCDs) are designed to give police an effective way of dealing with low-risk offending.
There are currently six ways in which offences can be addressed by the police without the matter proceeding to court - including cautions, fines and community resolutions.
The Ministry of Justice plans to end cautions would see offenders who commit minor offences repair damage or pay compensation for less serious crimes instead of being given formal warnings.
A trial, which is taking place in Staffordshire, West Yorkshire and Leicestershire until the start of November, will be rolled out across England and Wales if successful.
Richard Monkhouse, Chairman of the Magistrates' Association, told the committee that "if every case came into court the courts could not manage and would be seriously clogged up".
---
Out-of-court disposal statistics
660,965 out-of-court disposals were issued in the year ending March 2008
318,500 out-of-court disposals were issued in the year ending March 2014
Between 20% and 33% of out-of-court disposal cases have been dealt with "inappropriately"
28% of offences are brought to justice by out-of-court disposals in West Yorkshire
49% of offences are brought to justice by out-of-court disposal in London
Source: Home Affairs Committee Out-of-court disposals report
---
However, he warned that OOCDs were being used "where there are identifiable victims, violence involved and sexual behaviour involved", and in cases that should have been tried in a crown court.
The committee also found there was a "postcode lottery" in the way police forces used OOCDs.
In Cumbria about 70% of all cases went to court, whereas in Gloucestershire it was closer to 30%, Mr Monkhouse said.
Chief Constable Lynne Owens, the national policing lead on OOCDs, said there was some confusion and a lack of understanding about what kind of disposal was most suitable in each case.
But she said that only 2% of sexual offences were dealt with with an OOCD.
She gave an example of a 16-year-old boy in a sexual relationship with a 15-year-old girl, where neither the victim, nor the offender, nor any of their parents, was willing to support a prosecution in court.
'Clear process needed'
The committee recommended a number of reforms to improve the use of OOCDs, including the formation of scrutiny panels in all police force areas to review the appropriateness and consistency of decisions to use OOCDs.
Feedback panels must include representation from police at the rank of at least Assistant Chief Constable, as well as victims' groups, it said.
A number of reforms already under way - including guidance setting a higher bar for the use of OOCDs when dealing with serious or repeat offences - would also improve public confidence in the system, the report added.
Keith Vaz, chairman of the committee, said: "The inappropriate use of out-of-court disposals to deal with serious offences is unacceptable. This has damaged public confidence in the police's ability to tackle low level offending.
"The public deserve to feel reassured that their local police forces are not tackling serious crimes with a slap on the wrist."
Responding to the report, Mike Penning, policing, criminal justice and victims minister, said police reform was working.
"It is vital the public and victims have confidence in our justice system, which is why we have banned the use of cautions for serious offences and we have now enshrined this in law," he said.
"We have already announced plans to scrap the use of cautions in England and Wales and we intend to simplify the current range of out-of-court disposals and to ensure that there are more direct consequences in future for people who commit even minor crimes."
The Ministry of Justice issued guidance to police forces in November 2013 that cautions should not be used for cases that were indictable-only - meaning they should be tried in a court - except in exceptional circumstances.
The Criminal Justice and Courts Act 2015, which received Royal Assent in February, put statutory restrictions on the use of adult simple cautions.