Parents 'let down again' over son's murder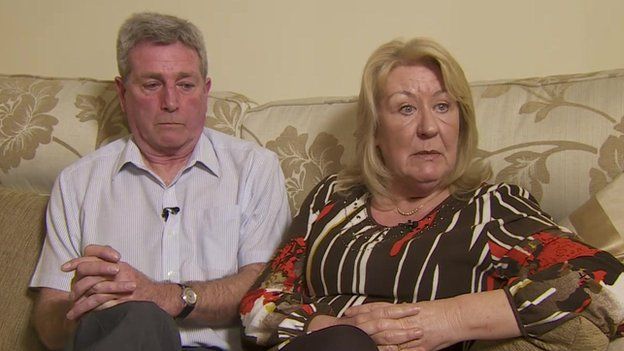 Parents who overheard a judge saying victim statements made "no difference" to parole decisions say they have been "let down" after hearing their son's killers could be moved to open prisons.
Geraldine and Peter McGinty, whose son Colin died in 2001, heard the judge's remark last year and later met minister Chris Grayling, who ordered a review.
But now the family say the killers have been recommended for moves to open prisons following private hearings.
The government said it had "sympathy".
It said the matter was being considered by the Parole Board, but the final decision rested with Mr Grayling and this had not yet been made.
The Parole Board said it was in contact with the McGinty family but refused to comment further.
Michael Brown and Gary Hampton stabbed 21-year-old Colin McGinty to death in 2001 in Bootle, Merseyside.
They were jailed later that year and are both serving minimum sentences of 16 years - currently in "closed prison conditions".
After hearing Judge Graham White's comment about victim impact statements during a parole case for Brown, Mr and Mrs McGinty met Mr Grayling, who referred the case back to the Parole Board and told the family they would be kept informed.
The couple said they expected details of the killers' next hearing in advance, and hoped they would be allowed to attend.
But Mrs McGinty said: "We were informed by our victim support officer last Wednesday that the hearings had taken place and that they were paper hearings."
She said the judge making a decision "on the papers alone" meant her family's statements would not have made "any difference".
Mr McGinty said it was "really important" to the family to read out impact statements - but instead the legal process had been a "paper sham".
Having to prepare victim personal statements "destroys you" and causes feelings of grief to "flood back", Mrs McGinty said.
The couple said Mr Grayling told them last year he would "happily meet with us again" in future.
But Mrs McGinty said: "When I did contact them after hearing from my victim support officer his secretary said he wouldn't be available to speak to us."
She said she felt "really let down", and Mr McGinty said the government's behaviour had been "atrocious".
"They have no consideration for our feelings whatsoever and they led us along and it quite simply isn't good enough," he said.
In a statement, the Ministry of Justice said it had offered the couple "an opportunity to come into the department again to talk through their concerns".
It said Mr Grayling had the "utmost sympathy with Mr and Mrs McGinty's feelings which is why he met them" last October.
"Ultimately the Parole Board is an independent body and it would not be appropriate to comment upon its decisions or recommendations in individual cases," the ministry added.