Phone hacking 'rife' at Mirror Group Newspapers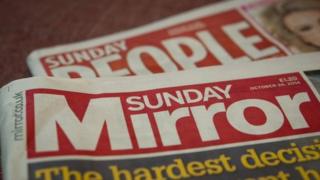 Phone hacking was "rife" at Mirror Group Newspapers (MGN) from 1999 to 2006, a court has heard.
Counsel David Sherborne said the hacking was on an industrial scale and far larger than that which took place at the News of the World.
He said that journalists at the Daily Mirror, the Sunday Mirror and the People hacked phones on a daily basis.
The hearing at the High Court in London is considering cases brought by eight high-profile figures.
Mr Sherborne is representing TV executive Alan Yentob, soap stars Shane Richie, Shobna Gulati and Lucy Benjamin, former footballer Paul Gascoigne, actress Sadie Frost, TV producer Robert Ashworth and flight attendant Lauren Alcorn.
Seven of the claimants have referred to at least 109 published stories.
In opening statements, Mr Sherborne estimated that more than 2,000 calls were made to try to access voicemail messages in the case of Mr Yentob.
The court heard that one journalist hacked the phones of about 100 celebrities each day.
'Valuable source'
Counsel said that MGN had admitted that all eight were the victims of voicemail interception and other unlawful methods of information gathering by journalists working for the three titles.
Mr Sherborne told the court these were "representative claims" aimed at establishing damages guidelines for subsequent cases against MGN.
Mr Sherborne said as well as hacking, private investigators were also used.
He said: "The fact that MGN continued its phone hacking at such levels and over the course of so many years more than evidences its utility as a valuable source of information, particularly for publishing stories in its three most popular newspaper titles".
In MGN's written argument, Matthew Nicklin QC said it published a public apology to all hacking victims and its parent company Trinity Mirror had sent private letters of apology to the eight claimants.
He said: "The claimants now face trial secure in the knowledge that MGN has admitted liability, and has also publicly and privately apologised to them and expressed regret at what certain of its former employees did in the past."
The case continues on Tuesday.