Mohammed Emwazi: Security approach ineffective, says Davis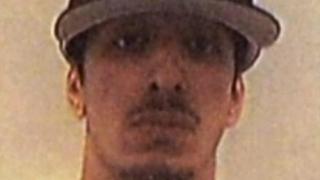 UK intelligence agencies have a flawed anti-terrorism strategy, former shadow home secretary David Davis has said.
The Tory MP argued the case of Mohammed Emwazi - the Islamic State extremist known as "Jihadi John" - showed relying on disrupting suspects was ineffective.
Extremists like Emwazi - who was known to MI5 before going to Syria - had been left free to "carry out evil deeds", he said, calling for more prosecutions.
But Home Secretary Theresa May said UK security services were "true heroes".
Writing in the Guardian, Mr Davis said: "Given the numbers who appear to have 'slipped through the net' it is legitimate to ask: how many more people must die before we start to look more closely at the strategy of our intelligence services?"
Kuwaiti-born Emwazi, who is in his mid-20s and from west London, was this week identified as the person seen in beheading videos of Western hostages.
Mr Davis wrote: "The problem is not new. The fact is that the intelligence services have long utilised tactics that have proved ineffective.
"One of the results of this policy is that it leaves known terrorists both to carry out evil deeds, and to recruit more conspirators.
"As a result, the problem on the street grows progressively larger."
Mr Davis called for a similar approach to that of the US, where authorities are legally obliged to pursue and convict those who endanger the public.
However, Mrs May defended the UK's security and intelligence services.
"You might not see the work they do. You might not know the risks they take. You might not be told about the plots they stop," she told the Conservative Party's Welsh conference.
"These remarkable men and women are true heroes. And they deserve the support and respect of every single one of us."
Control orders
Earlier, former independent reviewer of anti-terror legislation Lord Carlile said the government had been wrong in 2010 to abolish control orders which placed terrorist suspects under close supervision.
He said it was likely Emwazi and his associates would have been subjected to control orders - had they still been in existence.
"Those control orders would have contained relocation conditions," he told the BBC.
"There is therefore a decent argument - if not a very strong argument - that what Mohammed Emwazi has done would not have occurred had control orders continued."
He said it was "unfair" to criticise the British security services, adding that any suggestion Emwazi had been radicalised by intelligence agencies was "an absurdity".
When agencies approached people - as they were alleged to have done with Emwazi before he left for Syria - they planned it "very carefully".
"They assess the people they are going to approach and there is always a reason," Lord Carlile said.
"Out there in the security services are people whose names we don't know, who are the unsung heroes, who have protected this country over many years now," he added.
Prime Minister David Cameron has defended the UK's security services, saying their "dedication and work has saved us from plots on the streets of the UK that could have done us immense damage" within the last few months.