Algeria hostage inquest: Judge returns 'unlawful killing' verdicts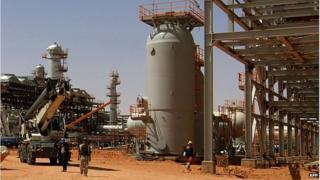 Seven British men who died in the 2013 Algerian hostage crisis were "unlawfully killed", the judge in an inquest into their deaths has recorded.
The inquest heard "unnecessary and unintentional" delays meant government intelligence about terror plots to kidnap British workers in Algeria was not passed on before the armed siege.
On 16 January 2013, gunmen linked to al-Qaeda attacked the In Amenas gas plant in Algeria, taking staff hostage.
In all, 40 staff and 29 militants died.
At the end of the 30-day inquest at the Old Bailey in London, Recorder of London Judge Nicholas Hilliard ruled:
Garry Barlow, 50, from Liverpool, was unlawfully killed from multiple injuries in an explosion
Carlos Estrada Valencia, 44, who was originally from Colombia but had moved to London, was unlawfully killed. He was shot and the victim of an explosion
Sebastian John, 26, from Surrey, was unlawfully killed while being held hostage by extremists
Carson Bilsland, 46, from Bridge of Cally in Perthshire, was unlawfully killed in an explosion
Kenny Whiteside, 59, from Glenrothes in Fife, was unlawfully killed while being held as a human shield
Stephen Green, 47, from Fleet, Hampshire, was unlawfully killed. The coroner said that even though Mr Green was probably shot by Algerian forces, the extremist militants bore responsibility for his death
Paul Morgan, 46, from Liverpool, was unlawfully killed during an attack by extremists
British victims of Algeria attack
Judge Hilliard ruled that although the risk of terror attacks in Algeria was known at the time, there was no evidence of a specific threat to the plant.
However, the UK government had received information alleging that unidentified terrorists in southern Algeria were seeking to kidnap British workers there, he said.
"It was later established that the information was several months old when HMG received it. There was an unnecessary and unintentional delay in processing the information until after the attack had started," he said.
Although the government assessed the information as of "questionable" reliability and lacking in detail, Judge Hilliard said: "But for the delay, there was a possibility that some of the information would have been passed to BP before the attack."
Steps were being taken by the government to prevent a repeat of the delay in processing intelligence, the judge heard.
Final phone calls
Gunmen began the assault before dawn, taking numerous hostages and killing some workers, but the Algerian army regained control of the plant on 19 January.
There were about 130 foreign staff at the plant at the time of the attack.
The inquest heard that shortly before 06:00, a convoy of vehicles carrying staff was ambushed by gunfire on both sides from the militants.
Paul Morgan, an ex-Foreign Legion soldier, who was in the lead security vehicle, was hit by two bullets and killed by a gunshot to the head, Judge Hilliard said.
A 4x4 Toyota vehicle carrying six armed militants was then seen approaching the compound, and one gunman got out and pushed the barrier to the compound up with ease, Judge Hilliard said.
"It's clear the security and living area had been breached quickly by the terrorists," he said.
"A terrorist was seen with a list of names and room numbers. The fact there was inside knowledge is backed up by the Algerian government," he said.
Additional security arrived to fight the attackers shortly after 06:00 but they had "casual clothing on so may have been misleading", the judge added.
Algerian military personnel arrived by 06:30, and a fire fight with reported rocket-propelled grenade fire ensued.
British workers Stephen Green and Sebastian John had been having breakfast together when the attack began, the inquest heard.
They initially thought the attack was a security exercise, Judge Hilliard said.
Three other British men escaped into a gap in the ceiling, and many other expat workers hid, but Mr Green and Mr John "were not that lucky and were both taken hostage", he said.
They were taken along with other foreign hostages to the compound's "plaza", where they were forced to wear explosive devices, he said.
They were encouraged to use their mobile phones to speak to their families, he added.
The inquest heard hostages were then loaded into vehicles, which each contained a landmine, he said.
As the convoy containing the hostages began to leave, the vehicle carrying Mr Green was shot by an Algerian army helicopter, he said.
"It is likely the bullet was fired by Algerian forces", but the attackers bore the responsibility for his death, he said.
---
Algeria hostage crisis: What we know
---
Mr John, he said, died in a car crash at around 14:00 from a head injury.
The coroner described both men as "very brave".
Carlos Valencia, who was a visiting executive, was also killed by a gunshot "likely from Algerian forces".
His widow, Claudia Gaviria - who attended the verdict - said it had been "heartbreaking to hear the evidence presented" and said his death "could and should have been prevented".
Garry Barlow, system supervisor at the plant, was celebrating his 50th birthday on the first day of the siege.
He was warned by Algerian colleagues about the attack but had no time to hide - he was taken hostage and died in an explosion on 18 January.
The inquest heard that inspection engineer Carson Bilsland was captured because he saw Algerian workers being allowed to leave, and he thought it was all safe to emerge.
He was taken hostage and died inside a vehicle on 17 January, the inquest was told.
Kenny Whiteside, described as "friendly and easygoing", was also killed by an explosion on 17 January.
"I pay my own tribute to the families of the deceased," Judge Hilliard said.
"I hope that through this inquest the families will gain some comfort."
Over the course of the inquest, questions have been asked about security at the site.
One of the dead extremists had worked as a driver at In Amenas, the court was told.
The most recent security plan, carried out in January 2013, had recognised that an attack was a "real risk", the judge said.