Syria girls: UK police deny Turkey information delay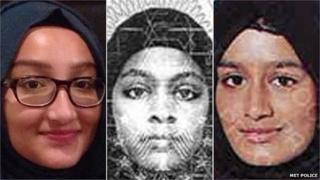 Scotland Yard has denied it took three days to inform Turkey about the London schoolgirls travelling to Syria, possibly to join Islamic State.
Shamima Begum and Amira Abase, both 15, and Kadiza Sultana, 16, travelled to Istanbul on 17 February.
Turkey's Deputy PM Bulent Arinc said officials would have taken "necessary measures" had they known earlier.
But Scotland Yard has said it began working with Turkish authorities a day after the girls went missing.
The girls boarded a Turkish Airlines flight at Gatwick, and would have required a visa to enter the country.
'Joint effort'
Mr Arinc said: "It is a condemnable act for Britain to let three girls... come to Istanbul and then let us know three days later.
"They haven't taken the necessary measures. The search is ongoing.
"It would be great if we can find them. But if we can't, it is not us who will be responsible, but the British."
The three girls had been studying for their GCSEs at Bethnal Green Academy in Tower Hamlets.
A fourth girl from the school travelled to Syria in December.
Mr Arinc's comments came after UK police officers travelled to Turkey, although their role in the country has not been confirmed.
A Scotland Yard statement said: "Once we established that the girls had travelled to Turkey, police made contact with the foreign liaison officer at the Turkish Embassy in London on Wednesday, 18 February.
"Since then we have been working closely with the Turkish authorities who are providing great assistance and support to our investigation."
A public appeal for information about the missing girls was launched by police on Friday, three days after the girls boarded their flight to Turkey.
'Closer co-operation'
Commons Home Affairs Committee chairman Keith Vaz said there needed to be "much closer co-operation" with Turkey in tackling the problem of people travelling through the country to Syria and Iraq.
Prime Minister David Cameron has also urged airlines and internet companies to do more to prevent radicalised British teenagers travelling to the Middle East.
Mr Arinc said: "We have tracked down and banned tentatively 10,000 people who were previously reported to us from entering Turkey on suspicions of terrorist activities. We fulfil our duty.
"We believe that there is a need for joint effort and co-ordination in fight against terrorism."
Security services have already faced criticism after it emerged that, before leaving the UK, Shamima sent a Twitter message to Aqsa Mahmood, who left Glasgow for Syria in 2013 to marry an Islamic State fighter.
According to a lawyer for Ms Mahmood's family, her Twitter account has been "monitored" by police since she left Britain.
He said authorities should have seen Shamima's message and taken action before she and her two friends followed.
The girls have been described as "straight-A students". Their principal Mark Keary said on Monday there was no evidence they had been radicalised at school.
The girls' families have made appeals for them to come home.