John Prescott set to return to front-line politics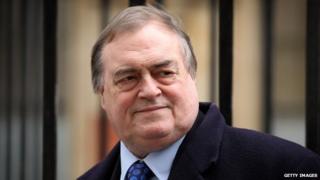 John Prescott is returning to front-line politics as an unpaid adviser to Ed Miliband with responsibility for climate change.
The former deputy PM will focus on trying to help a future Labour government seek agreement at climate change talks due to take place in Paris in December, Labour sources say.
Mr Miliband said in a tweet that Lord Prescott "knows how to knock heads together".
Lord Prescott left the Commons in 2010.
In his column in the Sunday Mirror, he said: "My brief is to raise ambition on this crucial issue and I am proud to help the man I hope will be the next prime minister so that together we can help the next generation."
Lord Prescott has a wealth of experience in climate change and environmental issues, having served as the EU's lead negotiator at the Kyoto talks which spawned the first global agreement on cutting carbon emissions in 1997.
Ed Miliband, who is a former energy and climate change secretary, has written in the Observer that he wants the Paris talks to set a goal of net zero global carbon emissions for the second half of this century.
New Labour
Lord Prescott, who turns 77 in May, served for 13 years as deputy leader of the Labour Party under Tony Blair. He resigned as deputy prime minister in 2007.
His time in government was marked by controversy over a two-year affair with a secretary and an incident when he punched a man who threw an egg at him during a general election campaign.
In 2012 he stood as the Labour candidate in the election to be the first police and crime commissioner for Humberside Police, but lost to Conservative Matthew Grove.
The BBC's political correspondent Robin Brant said the appointment may be seen as an attempt by Mr Miliband to deal with a threat from UKIP, who are trying to target traditional Labour voters in the north of England.
A renewed focus on climate change issues is also likely to be seen as an attempt to rebut advances from the Green Party as the election gets closer, our correspondent added.
'Short of talent'
Speaking on Sky News's Murnaghan programme, shadow foreign secretary Douglas Alexander "warmly" welcomed Lord Prescott's appointment.
He said the former deputy PM would bring great "expertise" on climate change, pointing out that Lord Prescott was "central" to negotiations on the Kyoto Protocol in 1997.
Mr Alexander added that he "fully expects" Lord Prescott to continue to support the party's election campaign alongside his new policy role.
UKIP leader Nigel Farage took a different view on Lord Prescott's appointment to Mr Miliband's team, commenting: "I think they're a bit short of talent."
But former Labour spin doctor Alastair Campbell said it was a "good move", adding that climate change was "slipping off the agenda" under David Cameron.