England's councils 'on cliff-edge' owing to cuts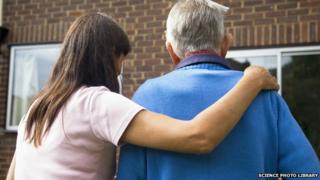 Public services like adult social care could "collapse" unless councils get new funding powers, experts say.
The Independent Commission on Local Government Finance said England's local authorities need "urgent devolution of powers, funding and taxes".
It said councils were on a "cliff-edge" owing to cuts, and services which have been "part of everyday life" for many years "may not be there much longer".
Ministers said there was "scope for decentralising" but not for tax rises.
The commission - made up of economists and business, finance and public service experts - was established by the Local Government Association (LGA) and the Chartered Institute for Public Finance and Accountancy (Cipfa), but is independent of both.
It said further cuts were expected in the next Parliament in areas such as children's social care, policing, fire services and culture - and some services would "struggle to survive if local areas are not given the freedom to determine their own priorities and how they pay for them".
For areas ready to "take on new freedoms now", its report recommends:
more powers for councils over jobs, housing and care
a "single budget settlement" for each area (made up of groups of councils), with money then spent based on "local priorities"
freedom for councils to set the number and value of council tax bands
the scrapping of council tax referendums, which force authorities to hold a public vote if they want to increase tax by more than certain amounts
The report says all areas should keep 100% of the business rates money they collect.
It also calls for "multi-year" funding settlements to allow councils to plan for the long term, and proposes a "urgent review of local government's sustainability".
'Financial crisis'
"Councils' success at implementing cuts over the past few years has shielded people from the stark reality that the services they use can't carry as they are for much longer," commission chair Darra Singh said.
"Nowhere is this more evident than with adult social care, which is facing financial crisis with minimal scope for further efficiencies."
LGA president Lord Best said the report proposed a "sensible and workable approach" which was "essential reading for this and the next government".
"To build the housing the country needs, provide the quality of care that our elderly deserve and support businesses, it is clear that local authorities need much greater freedom from central government," he said.
'Public support'
Local government minister Kris Hopkins said: "There is certainly scope for decentralising more funding to councils, by extending the successful introduction of incentives like local business rates retention and the New Homes Bonus.
"Such measures allow councils to increase their revenues - not by higher taxes, but by growing the pot through supporting job creation, construction and enterprise."
He defended the council tax referendum system, which he said had "strong public support".
"Instead of finding new ways to tax people, councils should be taking up the offer this year of extra government funding to freeze council tax," he added.