DNA test funding could 'end family court battles'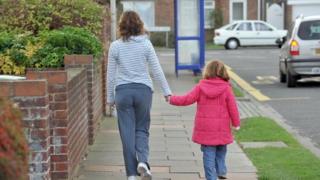 DNA tests to determine parentage could end "acrimonious" family court battles, Justice Minister Simon Hughes has said after funding was announced.
Between £500,000 and £1m a year will come from the Children and Family Court Advisory and Support Service to pay for the tests in England from September.
Government cuts in 2013 meant legal aid was no longer available for DNA tests.
A Ministry of Justice spokesman said this resulted in longer court cases when parents could not afford the fee.
It is hoped the funding will save the courts time and money, he said.
The move follows two pilot schemes in Taunton and Bristol, which were set up after anecdotal evidence suggested courtroom arguments, particularly about parentage, caused delays in divorce cases.
Findings from the pilots suggested the tests mean judges could be more confident when making decisions about children, and parents would be more likely to follow the court's orders.
Mr Hughes said: "I am determined that all cases involving children should be resolved quickly and wherever possible outside court.
"However when they do come to court they should be resolved in a civilised way so that children don't suffer.
"Unambiguous and conclusive DNA tests will prove parentage and help to end acrimonious and embarrassing court battles."
Liz Cowell, family lawyer at Slater and Gordon, said the tests would help in cases where mothers allege a father has no right to contact with a child because they are not the biological parent.
She added: "The change will also assist in cases where paying parents try to dodge supporting their children with claims that they are not the biological father."
Jane Robey, chief executive of the charity National Family Mediation, said the government's decision to fund a court-based DNA testing regime was "puzzling" as paternity should be determined before reaching the courtroom.
"It makes no sense to wait until a case reaches court - at the very end of a long and costly process - when it is possible to establish paternity or drug and alcohol use, much, much sooner," she said.