'eBay-style online courts could resolve smaller claims'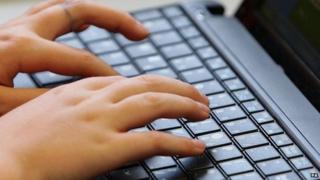 Low-value civil court cases in England and Wales could be dealt with by an online disputes system similar to that used by eBay, a report recommends.
A Civil Justice Council report says settling non-criminal cases of less than £25,000 online would reduce the expenses generated by a court.
Principal author Prof Richard Susskind said eBay disputes were "minor", like many civil court cases.
Her Majesty's Courts and Tribunals Service says it welcomes the report.
The proposed online dispute resolution scheme would be similar to the one used by online marketplace eBay to diagnose and resolve disputes.
Online facilitators would be used to help parties reach an agreement, and if that failed, online judges would rule on cases without the need for courts to be booked or for the parties involved to appear in person to give evidence.
The report, from the council's online dispute resolution advisory group, suggests conducting a pilot, ahead of an anticipated full roll-out in 2017.
The BBC's legal affairs correspondent Clive Coleman says the report is calling for a radical and fundamental change to the way courts deal with smaller claims.
'21st Century users'
It notes that the dispute resolution system run by eBay settles 60 million disputes between small traders every year.
Prof Susskind said the model was "remarkable" and could be used in a similar way in the civil courts system which was "too costly, too complex and too slow".
Speaking on BBC Radio 4's Today programme, he said eBay disputes "are minor differences, but so are the very many differences in our civil courts system".
Prof Susskind, who is IT adviser to the Lord Chief Justice, said the online court would have "a three-tier structure, and we expect most disputes to be resolved at the first two stages without a judge becoming involved".
Under the proposals, tier one would be "dispute avoidance", with interactive guides and information to help people understand their issues and identify the best way of resolving them.
Tier two would be "dispute containment", using "online facilitators" to help the parties reach agreement.
Tier three would be "dispute resolution", employing the use of judges to consider suitable cases online, largely on the basis of papers received electronically, but with an option of telephone hearings.
Prof Susskind said the system had the potential to resolve tens of thousands of cases every year and cost less for the parties involved and the taxpayer.
Lord Dyson, chairman of the Civil Justice Council, said in the foreword of the report that the area of online dispute resolution had "enormous potential".
Its aim was "to broaden access to justice and resolve disputes more easily, quickly and cheaply," he said.
"There will be a lot of work to be done, but I have no doubt that ODR will play an important role in the future of civil justice."
'Proper consultation'
The proposal for the creation of an online court comes five months after a senior judge called for courts to cut down on paper documents and move into the digital age.
In September, Lady Justice Gloster, who sits in the Court of Appeal, said the amount of files used in trials was similar to when she started her legal career 40 years ago.
The Law Society welcomed the proposals but said "lessons should be learned about existing systems".
A spokesman said: "Proper consultation and proper investment would be essential.
"There has been a long history of underinvestment in court IT in England and Wales.
"A decade ago Lord Justice Woolf, in his report Access to Justice, identified the importance of better IT to the future of the civil justice system and in 2009 Lord Justice Jackson noted that the courts still did not have an IT system which was adequate for the delivery of civil justice at proportionate cost."