V&A to buy Cardinal Wolsey tomb statues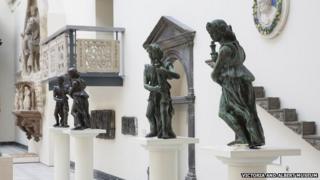 The Victoria and Albert Museum has raised funds to buy four bronze angels originally designed for the tomb of Cardinal Thomas Wolsey, Henry VIII's influential adviser.
The V&A said last year it would cost £5m to secure the figurines.
The statues are "a vital part of our national history and artistic heritage", director Martin Roth said.
The cardinal, who appears in Hilary Mantel's novel Wolf Hall - currently being shown on BBC1 - died in 1530.
'Future generations'
The bronze figures, designed to adorn Wolsey's tomb, were sold during the English Civil War, separated and eventually lost. Cardinal Wolsey's tomb was never completed.
The pieces emerged recently and were brought together at the V&A for the duration of the museum's campaign to secure them.
They will now undergo conservation treatment before going back on display.
Mr Roth said: "The Wolsey Angels are a vital part of our national history and artistic heritage. We are very grateful to everyone who contributed to our fundraising appeal to ensure these outstanding sculptures, which were thought to be lost, are reunited and preserved at the V&A for future generations."
Grants to fund the acquisition included £2m from the National Heritage Memorial Fund. The Art Fund contributed £500,000 and Friends of the V&A gave £200,000.
Fiona Talbott, head of the National Heritage Memorial Fund, said the statues were "extraordinary".
She added: "Congratulations to the V&A for being so tenacious in securing their future. We feel proud to have played a part too and hope that the Cardinal Wolsey's Angels - thanks to their current high profile - will attract many admirers both now and in the future."
---
The Wolsey Angels
The angels were commissioned in 1524 from the Florentine sculptor Benedetto da Rovezzano as part of a magnificent tomb in the Renaissance style, reflecting Wolsey's wealth and statesmanship.
The angels, each measuring around a metre in height, were created between 1524 and 1529.
After Wolsey's death, they were acquired by Henry VIII who planned to use the tomb for himself. When the monarch died, each of his children expressed the intention to complete the memorial, but failed to do so.
Elizabeth I moved parts of the tomb to Windsor in 1565 where they stayed until 1645-6. During the Civil War, they were sold to raise funds.
They were thought lost until 1994, when two appeared at auction. Then in 2008, the remaining pair were discovered at Harrowden Hall, a country house in Northamptonshire where all four angels once stood on top of the gateposts.
---
Some historians have said the cardinal was due to be buried at Windsor.
But he fell from favour after failing to persuade the Pope to annul Henry VIII's marriage to Catherine of Aragon
Wolsey died on a journey from York to London, where he was due to stand trial for treason, and was buried in Leicester.