General election 2015: Labour promises 'no PM pictures'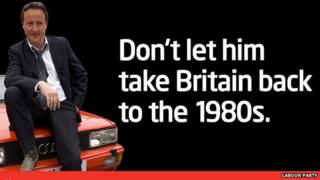 Labour has vowed not to feature Prime Minister David Cameron on billboards ahead of the general election.
The party said it would focus on issues rather than personalities. and not use negative personal campaigning.
Its election strategist Douglas Alexander said the Conservatives were preparing to spread "fear and smear".
He told the BBC's Andrew Marr Show that claims in Sunday newspapers that Labour's campaign was in trouble were "rubbish".
"They tell you much more about the agendas of the newspapers than the agenda of the Labour Party," he said, adding that Labour was "going on to victory".
Among negative headlines in the papers was criticism of Ed Miliband from a leading business chief who said a Labour government would be a "catastrophe" for the UK.
Stefano Pessina, acting chief executive of Boots, said in an interview with the Sunday Telegraph that Mr Miliband's agenda was "not helpful for business, not helpful for the country and in the end, it probably won't be helpful for them".
He did not elaborate on which specific policies of the party he disliked but told the newspaper: "If they acted as they speak, it would be a catastrophe."
In response, Paul Kenny, general secretary of the GMB union, said: "This is the same boss who used private equity to take Boots private and move the domicile offshore to stop paying corporation tax since 2007."
Labour added its voice to criticism of Mr Pessina.
Chuka Umunna commented: "The British people and British businesses will draw their own conclusions when those who don't live here and don't pay tax in this country... purport to know what is in Britain's best interests."
'Fire up the Quattro'
Labour's pledge on posters follows the 2010 election campaign, in which it used Mr Cameron's face on a number of billboards and also online.
In one, he was shown as TV detective Gene Hunt alongside the message: "Don't let him take Britain back to the 1980s."
The image was later rebranded by the Conservatives with the slogan: "Fire up the Quattro, it's time for change."
In a message to party members, shadow foreign secretary Mr Alexander wrote: "The Tories have now bought up hundreds of billboard poster sites on high streets across the country for the months of March and April to run their negative personalised adverts.
"It already seems clear that in their campaign the Tories intend to spread falsehood, fear and smear.
"They will seek to avoid open debate and scrutiny. The Tories will dig deep into their donors' pockets - and plumb new depths - in their desperation to cling on in government."
A spokesman told the BBC that focusing on "issues, not personalities" did not preclude the use of Mr Miliband's image in Labour's own campaign, however.
Political opponents may also appear in digital campaigns, which has not been ruled out by Labour, said BBC political correspondent Iain Watson.
He added: "Labour admit they have very few resources to pay for billboard campaigns in any case and are stressing their emphasis on individual contacts with voters."
Mr Miliband has recently been featured in a Conservative Party campaign, in which he appears in a mocked-up Downing Street scene alongside SNP politician Alex Salmond and Sinn Féin leader Gerry Adams, with the caption: "Your worst nightmare just got even worse."
Labour also confirmed that while discussions on the format of TV election debates continued, Mr Miliband would debate with whoever else is invited to take part.
In Douglas Alexander's Andrew Marr Show appearance, SNP leader Nicola Sturgeon's comments on last week's show - that she wanted to see a Westminster Labour government which depended on SNP support - were put to him.
He said: "Of course she would affect that's what she wants, although I personally think she may well actually want an in-out referendum on Europe and a Tory government because those would be the most propitious circumstances for further independence in Scotland."
He also said that voting SNP rather than Labour in Scotland could result in a Conservative government - and not Ms Sturgeon's preferred option - because the party with the most MPs at Westminster would be likely to get the first chance to form a government.