Tesco recalls 'foul smelling' squash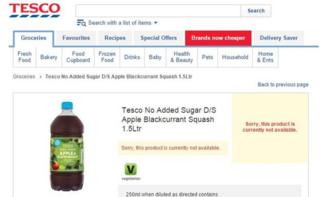 Tesco has recalled its blackcurrant and apple squash drink after consumers complained of a "foul smell" and of feeling ill.
The supermarket withdrew its own-brand "No Added Sugar Double Concentrate Apple and Blackcurrant" squash.
But angry customers have accused Tesco of keeping the recall "hidden" and not posting details on its website.
The firm said a flavour additive had been accidentally added, which posed no safety risk but had a "strong odour".
Tesco said the additive, Dimethyl Disulphide, which had been added to the squash in error was a common ingredient in food products.
"It is an approved additive and poses no food safety risk. However, it does have a strong odour, similar to garlic which customers are likely to find unpleasant," a spokesperson said.
Commenting on the parenting blog Playpennies, parents had described the drink as smelling of "used toilet water", "sick" and "compost".
Mum Claire Davies wrote: "Had this the other day, the smell was horrendous but drank it anyway as I thought they just changed it.
"Since then both my daughter and partner have had bad bellies. A bit worried now as nobody knows what's wrong with them."
'Terrible response'
Another parent wrote that their son refused to drink the squash as it "tasted like sewer water".
"I tried it and it was awful. The bottle smelt like off milk too," they said.
One commenter said they were advised by a Tesco branch supervisor to pour the juice down the drain and seek medical advice if they felt unwell.
Others complained about what they felt was a "terrible response" from Tesco.
The product is not currently listed on the supermarket's recall page of its website.
"They must know hundreds (possibly thousands) of children have been possibly affected" wrote one poster, Gari189.
"Nothing on their product recall page (except a steam iron).".
Katrina Coombs WillbeMorgan posted on the Tesco Facebook page: "Me and my partner have been really ill and had bad tummy pains for days.
"I said that the squash tasted/smelled funny on Monday when we opened it but obviously didn't even connect it and we have been drinking it with lemonade to get rid of the aftertaste."
Responding to complaints on Twitter, Tesco confirmed it had recalled the product. It is no longer available to buy on its online shop.
"We have withdrawn the product from sale. Only products bought since the New Year may be affected, they will have a best before date of October 2015," the spokesperson added.
"Any customers can return this product, open or unopened, to any Tesco store."
According to the Food and Agriculture Organisation of the United Nations, Dimethyl Disulphide is a colourless to pale yellow liquid with an onion-like odour which is very slightly soluble in water, and soluble in alcohol and oils.