'I regard FGM as abhorrent', accused doctor tells court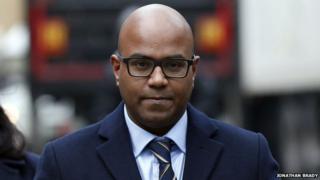 An NHS doctor accused of performing female genital mutilation on a young mother has told jurors he regards the practice as abhorrent.
Dhanuson Dharmasena, 32, is accused of carrying out the illegal procedure when stitching the woman after she gave birth at the Whittington Hospital, north London, in 2012.
Dr Dharmasena, of Ilford, north-east London, denies the charge.
The trial is the first prosecution of its kind in the UK.
A second man, Hasan Mohamed, 41, denies encouraging and abetting the offence.
It is alleged that stitching Dr Dharmasena performed on the woman effectively re-did the FGM carried out on her as a six-year-old in Somalia.
---
What is FGM?
Female genital mutilation, often abbreviated to FGM is also known as female circumcision.
It involves procedures that include the partial or total removal of the external female genital organs for cultural or other non-medical reasons. It can also include stitching up the genitals.
It is practised in 29 countries in Africa and some countries in Asia and the Middle East, but is illegal in the UK.
Carrying out female genital mutilation carries a maximum sentence of 14 years in prison.
Anatomy of female genital mutilation
---
Taking to the witness box at London's Southwark Crown Court, Dr Dharmasena said he believed there was "no medical justification for FGM".
"I regarded FGM as an abhorrent practice that doesn't have any justification in our society," he said.
He revealed that he had never had any training concerning FGM, and had never seen a woman who had undergone the practice before he treated the mother-of-two, identified only as AB.
'Oozing blood'
Dr Dharmasena said the woman was "insistent" that she wanted stitching back up - but denied he was a "puppet" to her demands.
Using an anatomical model, he demonstrated for jurors the figure-of-eight stitch he used to sew the woman up because she was "oozing" blood.
He said he asked the on-call consultant to check he had repaired AB correctly.
The consultant explained the correct method but never suggested that what he did was illegal, he said.
He said he told hospital trust investigators: "At no point in time did I intentionally or deliberately want to cause any harm to the patient. I had obeyed all the patient's wishes."
Opening the defence case, his lawyer Zoe Johnson QC urged the jury not to let their "horror" of the practice colour their judgment.
"I'm sure you would agree that all civilised people would consider female genital mutilation an abomination and abuse of a woman's human rights," Ms Johnson said.
She said that to convict Dr Dharmasena, the jury must be sure that he carried out FGM on the woman.
Ms Johnson told the jury it would hear that Dr Dharmasena was "from Sri Lanka and is a Hindu and female genital mutilation forms no part of his culture".
"So, please, don't let the obvious horrors I'm sure you feel as to the practice colour your judgment of the specific facts of this case," she said.
'Necessary repair'
Jurors heard earlier that the woman, then 24, went into emergency labour on 24 November, and the doctor undid the FGM by cutting her open so the baby could be delivered.
Afterwards he stitched her to stop the bleeding in a way which prosecutors say was illegal.
But Ms Johnson said Dr Dharmasena's defence is that the incision and subsequent repair "were necessary for AB's physical health and the incision and repair were connected with childbirth".
Hasan Mohamed, 41, is facing one count of abetting Dharmasena in committing the offence.
Mr Mohamed faces an alternative count of encouraging or assisting the commission of an offence. He denies both counts.
The trial continues.