Electoral Commission warns of 'ethnic kinship' voting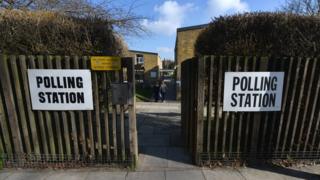 The elections watchdog has warned that a lack of campaigning by mainstream political parties in British Pakistani and Bangladeshi communities makes those areas vulnerable to electoral fraud.
The Electoral Commission said there was a political "void" in some communities.
It suggested this void was being filled with "ethnic kinship networks" which could undermine the principle of free choice for voters.
Problems highlighted include language barriers and social pressures.
The commission's research found that pressure on community members included respect for the decision of elders, to the more serious use of "undue influence" in which women and young adults are denied access to individual ballots.
'Build trust with voters'
It is working with police and returning officers in areas with a history of ballot rigging to prevent fraud ahead of May's general election.
Electoral Commission chairwoman Jenny Watson said: "Proven cases of electoral fraud remain rare, but it is important that no-one underestimates how serious it is when it does occur.
"We have long known that, when fraud is committed, candidates and campaigners are the most likely offenders and voters are the victims. The research we have published today confirms this."
The report also found some voters felt postal voting was "unsafe" and concerns were also raised about an "informal approach" to proxy voting.
The Electoral Commission said it would monitor the impact of postal voting during the forthcoming election.
Ms Watson added: "Although clear plans are in place to prevent and detect fraud ahead of the elections, there is also a challenge to campaigners.
"They must ensure their behaviour builds trust with all voters, and all those involved in elections must make it a priority to communicate what is and what is not acceptable behaviour at election time."
'Middle-man role'
Liverpool and Manchester universities, along with researchers from the NatCen research agency, carried out a survey of eight areas with high concentrations of voters of Pakistani or Bangladeshi origin, four where there had been problems in the past and four where there had been none.
The report found that both communities shared a "wide range of vulnerabilities" including insufficient safeguards for voting procedures and economic deprivation.
It says: "Our analysis strongly indicates that the primary source of this influence of kinship networks in politics lies in the lack of mainstream political party activity in the areas of concentration of Pakistani and Bangladeshi voters.
"This political void is filled by the ethnic kinship networks, which perform a role of a mediator between the British electoral system and immigrant-origin communities.
"Mainstream political parties were deemed by our interviewees to be only too happy to accept this middle-man role of kinship networks."