Operation Elveden: Jury in Sun staff trial discharged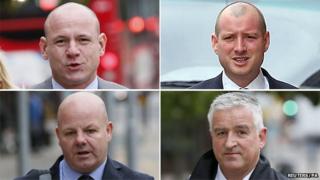 The jury in the case of four Sun employees accused of paying officials for stories has been discharged after failing to reach verdicts.
Ex-head of news Chris Pharo, ex-deputy news editor Ben O'Driscoll, reporter Jamie Pyatt and former managing editor Graham Dudman denied conspiring to commit misconduct in a public office.
The Crown Prosecution Service has said it will seek a retrial.
Judge Richard Marks QC said any new trial should be held this year.
Last week, two journalists from the newspaper - picture editor John Edwards and former reporter John Troup - were cleared of misconduct charges.
Mr O'Driscoll and Mr Dudman were also found not guilty of one similar charge last Friday.
'Considerable time'
Mr Dudman, 51, of Brentwood in Essex, and Mr O'Driscoll, 38, of Windsor, still faced two counts of conspiring to commit misconduct in a public office.
Mr Pharo, 45, of Sandhurst in Berkshire, faced a total of three counts of the same charge while Mr Pyatt, 51, of Windsor in Berkshire, faced two.
The trial had lasted three months and Judge Richard Marks said on Thursday the defendants had "had this hanging over them for a considerable amount of time."
He added: "The matter must be resolved one way or another, sooner or later."
Prosecutors had claimed there was a culture of corruption "on a grand scale" at the tabloid newspaper.
They said the men used illegal payments to "steal a march" on their competitors.
The court heard how information was allegedly sold to the newspaper by public officials, including police and prison staff, from 2002-11.
Stories were said to have involved details about the Yorkshire Ripper Peter Sutcliffe, pop star Mick Hucknall and murdered schoolgirl Milly Dowler.
But the men claimed they were "fed to the wolves" by News International - the Sun's parent company - to protect the company's reputation in the wake of the phone-hacking scandal.
The prosecution was part of Scotland Yard's Operation Elveden.