UK soldier accused of Austria girl rape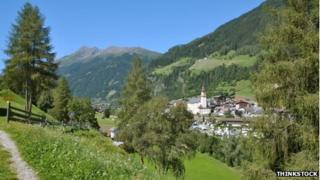 A British soldier has been charged with raping and sexually abusing a six-year-old girl in Austria, prosecutors say.
The soldier, who has not been named, was arrested on 29 November in Tyrol where he was taking part in mountain military exercises.
He is due in court on 10 March.
A spokesman for the state prosecutor's office in Tyrol said prosecutors believed the man had entered the girl's unlocked family home while drunk in the early hours of the morning.
The soldier was found in the girl's bedroom, by her father who was awoken by the noise, prosecutors said.
He was arrested in the town of Neustift and if found guilty faces up to 10 years in prison.
Hansjoerg Mayr, the spokesman for the state prosecutor, told the BBC the girl had been interviewed by the authorities.
A spokesman for the Army said it was aware a soldier had been charged in Austria with sexual offences relating to a child.
He added: "This matter is now subject to criminal proceedings led by the Austrian authorities and it is therefore inappropriate for us to comment further at this time."