Police commander sacked over 'sensitive leak'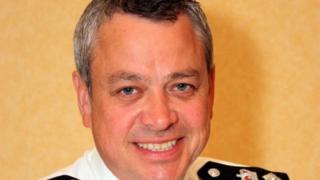 A London police borough commander has been sacked by a disciplinary panel for giving details of a "sensitive" police investigation to a journalist.
Det Ch Supt Andy Rowell was dismissed without notice after a disciplinary panel found allegations of gross misconduct against him had been proven.
The panel heard he had let a journalist copy a statement containing details from a serious crime investigation.
The ex-Ealing commander's behaviour "lacked integrity", it ruled.
The abuse of his position could have "brought discredit on the police service", the panel added.
Mr Rowell was originally arrested by detectives from Operation Elveden - the operation investigating corrupt payments to public officials.
His arrest came after information was passed to the police by News International's management and standards committee in the wake of the phone hacking scandal.
He was suspended from his post as borough commander in Ealing after his arrest although criminal proceedings against him were later dropped.
Deputy Assistant Commissioner Fiona Taylor, of the Directorate of Professional Standards said: "Andy Rowell had a long and successful career, rising to the rank of detective chief superintendent, he was respected by staff across the organisation as well as the community he worked with.
"He let all of those people down when he took the decision to leak police information in a significant and sensitive case - going against everything that he knew would have been the correct thing to do. His actions lacked the integrity required to be a police officer."