Paris attacks: UK police 'concerned' for Jewish community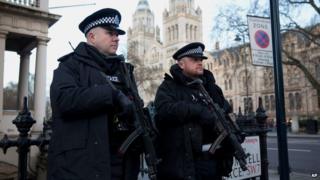 There is "heightened concern" about the risk to the UK's Jewish communities following last week's terror attacks in France, counter-terror police say.
Assistant Commissioner Mark Rowley said police were holding talks over "more patrols in key areas" after "anti-Semitic rhetoric from extremists".
Authorities are also considering enhanced security measures to protect police officers, he added.
A kosher supermarket and police officers were among targets in Paris.
Three police officers and four people at the supermarket were killed during the attacks.
Their deaths came after an assault on satirical magazine Charlie Hebdo by militant Islamists, during which eight magazine staff, a visitor to the magazine and a caretaker also died.
Analysis
By Daniel Sandford, BBC home affairs correspondent
The increased policing in Jewish neighbourhoods does not seem to be the result of any specific intelligence. But Britain's most senior counter-terrorism officer makes it clear that the Paris attack and anti-Jewish rhetoric coming from extremists across the world were enough to cause concern.
Jewish community leaders made their views clear at separate meetings with the prime minister and the security minister on Tuesday.
So for the foreseeable future there will be more visible policing in Jewish neighbourhoods of cities such as London and Manchester.
Senior police officers are also worried about the threat to their own staff. At least two alleged British plots last autumn apparently had police officers as potential victims.
'Difficult time'
Mr Rowley, the UK's police lead for counter-terrorism, said police had been reviewing security since the Paris attacks.
He said: "We are seeing continuing anti-Semitic rhetoric from extremists and attacks on this community in France and elsewhere.
"In addition to our existing security measures, we are in dialogue with Jewish community leaders about further actions that we will be taking, including more patrols in key areas."
He added that further measures to improve police security would be considered.
"We are also considering what further measures we might put in place to enhance the security of police officers, given some of the deliberate targeting of the police we have seen in a number of countries across Europe and the world," he said.
"Chief constables across the country are reviewing how to strengthen the protection of their officers from such attacks."
The Community Security Trust (CST), a Jewish charity, said it had received "an unprecedented number of calls" in recent days.
A spokesperson said: "We hope that the increased police presence, alongside CST patrols, will help to reassure the Jewish community as they go about their lives during this difficult time."
Restraint
Immigration and security minister James Brokenshire said: "The government will take the strongest possible action to safeguard the safety and security of the Jewish community."
Senior Muslim, Jewish and Christian figures also held a "interfaith unity gathering" in central London in response to the Paris attacks.
About 20 prominent religious figures met at the Islamic Cultural Centre at Regents Park Mosque.
Senior Rabbi Laura Janner-Klausner said: "We will not have division here, we will continue to work together and any attempt to divide us will not work."
Muslim leaders in Britain urged communities to react with restraint following the publication of the latest Charlie Hebdo edition, which depicts the Prophet Muhammad, on Wednesday. It went on sale in the UK on Friday.
An imams' letter, released through the Muslim Council of Britain, said: "Enduring patience, tolerance, gentleness and mercy, as was the character of our beloved Prophet, is the best and immediate way to respond."
Mr Rowley said police were continuing to support all communities.
He added: "Where we do have particular concerns, we make these known to those involved.
"For example, we continue to be alive to those who want to exploit the current situation and create fear in our Muslim communities, with whom we work closely, to offer our protection and reassurance."
The UK's threat level remains severe, which means a terrorist attack is highly likely.