Sparrow decline 'could be caused by loft insulation'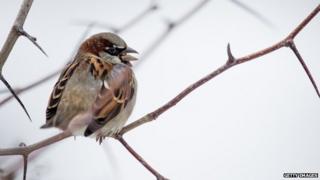 Homeowners insulating their lofts and filling in potential nesting spaces for sparrows may be contributing to a decline in their numbers, the British Trust for Ornithology has said.
A report by the trust suggested house sparrow numbers had dropped by 70% since the 1960s.
Sparrows in urban and suburban areas were "faring worst", the report found.
It said the number of starlings and house martins had also fallen by about 50% over the last 40 years.
Paul Stancliffe, a spokesman for the trust, said: "As people are becoming more aware and better at insulating their lofts they are inadvertently taking away little nooks and crannies which have historically been used by the sparrow to nest."
Nest box
He said starling and house martins were also "hole-nesting species" and could have suffered.
Mr Stancliffe pointed out there were other reasons for the decline, such as reduced winter food availability, but said loft insulation was undoubtedly a factor as people looked to save money on energy bills.
He suggested homeowners should put up a nest box with a 32mm entrance hole to provide an alternative nesting space where possible.
The trust's BirdTrends report summarises the population trends of 120 breeding bird species across the UK and Ireland and uses data collected by volunteer surveyors.
It found that there were 28 species of bird that were in decline over a period of between 35 to 40 years, and these also included skylarks, cuckoos and grey wagtails.
Conversely, 18 species had doubled in population size over a period of 31 to 45 years, according to the report. These included the buzzard, magpie, jackdaw and wood pigeon.
"Because these birds are generalists and not tied to specific habitats it allows them breed over wider parts of the country and therefore they are doing much better," Mr Stancliffe said.
'Other factors'
The report's author Dr Stephen Baillie said it was illegal to remove house martin nests because they were protected by the Wildlife and Countryside Act 1981, and perpetrators could be fined up to £5,000 for every bird, nest or egg destroyed.
He also said the data suggested that people were keener to tidy up unkempt areas in more affluent areas, and as a result sparrow and house martin numbers were dropping more quickly.
A spokesman for the Royal Society for the Protection of Birds (RSPB) said that around 20 million sparrows had disappeared since the 1960s.
He added: "The factors that have caused sparrow declines in urban areas are poorly understood. Whilst loss of suitable nesting sites might have affected numbers in some localities, sparrows have disappeared from areas that appear to offer plenty of suitable nesting sites. This implies that other factors are probably involved."