Profile: Gary Glitter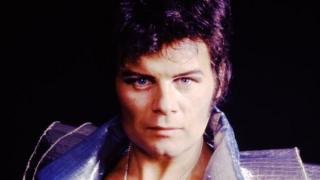 Gary Glitter has been convicted of a string of sexual offences against three girls. The convictions mark a dramatic fall from grace for one of glam rock's best-known faces.
Born Paul Gadd in Banbury, Oxfordshire, in 1944, Gary Glitter led a wayward childhood and never met his father.
He was brought up by his grandmother and his young mother, who often struggled to cope.
At the age of 10, he and his brother were taken into care.
Fame did not come easily. Gadd performed under a variety of names, such as Paul Russell, Paul Raven and Rubber Bucket, releasing records that mostly never charted.
Fame and fortune eventually came at the age of 28, when, under the name Gary Glitter, he hitched his act to the emerging glam rock scene of the early 1970s.
His breakthrough single, Rock 'n' Roll (Parts 1 and 2) reached number two in the UK in 1972 and topped the US charts.
The following year was his most successful.
Glitter scored a string of chart hits including I Didn't Know I Loved You (Till I Saw You Rock and Roll), I Love You Love and Do You Wanna Touch Me.
It was also the year of I'm the Leader of the Gang, the song that became his anthem.
By 1975 Glitter had sold 18 million records.
Glitter went bankrupt owing £170,000, but bounced back in the 1980s, scoring a 1984 hit with the single Dance Me Up.
The singer turned to Buddhism, became a vegetarian and took his show back on the road.
But in 1986 he needed hospital treatment after taking an accidental overdose of sleeping pills.
Then a third drink-driving conviction brought a 10-year ban and he narrowly escaped jail.
In the early 1990s Glitter found new favour among students who embraced his high-camp image for its irony.
When Oasis paid tribute to him on their second album, borrowing a flavour of Hello, Hello, I'm Back Again, he bought a yacht with the royalties.
But Glitter's darker side soon emerged. He was arrested in 1997 after dozens of images of child sex abuse were found on his computer's hard disk.
Vietnam conviction
In November 1999 he was sentenced to four months in a UK prison for possessing the images.
Upon being freed in January 2000 after two months, he spoke of his "deep regret".
He subsequently travelled to Cuba with his Cuban girlfriend before moving on to Cambodia, which permanently expelled him in 2002 over unspecified allegations.
It was after his move to Vietnam that his life reached a new low.
It culminated in his conviction for the sexual abuse of two Vietnamese girls in March 2006.
The former chart-topping singer had molested two girls aged 10 and 11.
The two-day trial, most of which was held behind closed doors, heard he had committed a series of "lewd" acts while the girls were at his beach house in the southern coastal city of Vung Tau.
Glitter, who stood accused of kissing, fondling and engaging in other sexual acts with the girls, evaded more serious charges of child rape, which carried a maximum penalty of death by firing squad.
On his return to the UK in 2008, the former pop star was ordered to sign the sex offenders register.
In 2012, he was arrested at his London home following an investigation by detectives from Operation Yewtree, which was set up after the Jimmy Savile abuse scandal.
His case came to trial in January 2015, where he denied all charges against him.
But his accusers told of a man not afraid to sexually abuse young girls.
One victim said Glitter had tried to rape her when she was just 10 years old. She told the court the singer had crept into her bed as she slept.
Glitter could now face spending the rest of his life in prison after jurors found him guilty on six counts - attempted rape, four counts of indecent assault and one of having sex with a girl under the age of 13.