Sir Ranulph Fiennes in Marathon des Sables record bid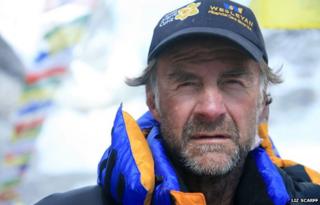 Explorer Sir Ranulph Fiennes hopes to become the oldest Briton to complete the "toughest footrace on Earth" - the Marathon des Sables in Morocco.
Participants run 156 miles (250km) in six days - about a marathon a day - in 50C (122F) temperatures in the Sahara.
Sir Ranulph, who has had two heart attacks and a double heart bypass, will be 71 when he takes part in April.
He hopes to raise £2.5m for charity and said: "You just have to say, 'I'm not going to be the first to stop.'"
He added: "You cannot be sure you're going to succeed. But what you've got to do is beat the weak voice that comes into your head when you're really knackered."
---
'Toughest footrace on earth'
The Marathon des Sables translates into English as Marathon of the Sands
It was started in 1986 by Patrick Bauer - a French concert promoter
The course is about 156 miles, the equivalent of six regular marathons
Competitors must carry all their provisions for the whole race on their back
Other famous Britons to compete include rower James Cracknell
Is it harder to run in the Sahara Desert or the North Pole?
---
Desert storms
About 1,000 people from all over the world compete in the Marathon des Sables, which changes route each year.
Sir Ranulph, a former British army officer, is doing most of his training in the Merthyr Mawr sand dunes in Bridgend, Wales.
He is being trained by Cardiff "ultra-runner" Rory Coleman, who has completed the Marathon des Sables 11 times.
He said: "It's going to be a tough undertaking for Sir Ranulph, he's taking on the extremes of the heat, desert storms and endless sand dunes, instead of the -50C, high altitudes, snow and ice that he's far more used to conquering.
"It's my job to get him to the finish line safely and in one piece."
Sir Ranulph will be running the Marathon des Sables in aid of the charity Marie Curie Cancer Care, which supports people with terminal illnesses.
He hopes to add to the more than £16 million he has raised for charity over his career.
"My late wife died 10 years ago of cancer, and she was looked after brilliantly by nurses from Marie Curie," he said.
"We're really hoping people will donate."
The veteran adventurer's past feats include becoming the first person to reach both poles by surface means and the oldest Briton to reach the summit of Mount Everest, aged 65.
He has also completed seven marathons in seven days on seven continents just four months after recovering from a heart attack and a double heart bypass.
In 2000, he lost the fingers on his left hand to frostbite during an unaided attempt to reach the North Pole.
When he returned to the UK, he was told he would have to wait several months before they could be amputated to allow the partially damaged tissue to heal.
But he decided to do the job himself and carried out the amputations using a fretsaw.