Ched Evans: Attorney general's office probe into website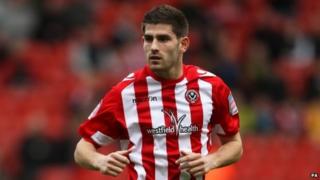 The attorney general's office is considering whether a website supporting convicted rapist Ched Evans breached contempt of court laws.
This follows a letter of complaint from the victim's father in November.
A spokeswoman confirmed that a senior lawyer was "considering the issues" and said it was hoped a conclusion would be reached "shortly".
Oldham Athletic are considering whether to sign the footballer, who was freed from prison last October.
Prime Minister David Cameron said he expected any club considering hiring the 26-year-old player to "weigh their decisions very carefully".
'Number of issues'
A spokeswoman for the attorney general's office said: "The father of Ched Evans' victim asked the attorney general to consider a number of issues in relation to the website.
"One of our senior lawyers has been seriously considering the issues raised in the letter since we received it and we hope to reach a conclusion shortly."
The attorney general's office could order the chedevans.com website to be taken down.
It could also make a recommendation for criminal prosecution.
Protests innocence
Evans, who previously played for clubs including Manchester City and Sheffield United, was jailed in April 2012 for raping a woman in Rhyl, North Wales.
He was released from prison in October after serving half of the five-year sentence.
Mr Evans continues to protest his innocence, and an investigation into his conviction by the Criminal Cases Review Commission is under way.
Oldham Athletic has said talks about a possible signing of Mr Evans remain ongoing.
The League One club's chief executive Neil Joy said on Tuesday there would be no announcement for the time being, but did not rule out taking on the former Sheffield United star.
"Oldham Athletic is not at this stage making any official announcement with regard to the speculation concerning Ched Evans.
"Whilst acknowledging the considerable media attention, we continue to have conversations with representative bodies such as the PFA and will conduct due diligence with regard to any decision we make on this matter."
More than 50,000 people have signed an online petition urging Oldham not to sign the Wales international striker.
The woman who started the petition, who uses the pseudonym Jean Hachet, told the BBC: "He was convicted of rape and he still doesn't acknowledge it was rape. And that's the incredibly dangerous message".
'Role models'
Downing Street said on Tuesday that Prime Minister David Cameron expects any football club considering hiring Mr Evans to "weigh their decisions very carefully",
"Ultimately, it is for employers to take decisions, but the prime minister does think that footballers are role models and he is sure that any potential would-be clubs and employers will weigh their decisions very carefully," a spokesman said.
On Monday Labour leader Ed Miliband said he would not sign Evans if he was in Oldham's "shoes".
"He hasn't shown remorse and I wouldn't take him on," Miliband told BBC Radio Manchester.