Save the Children probe how UK nurse contracted Ebola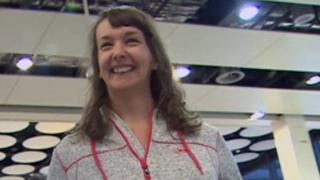 The charity Save the Children has said "no stone will be left unturned" in its investigation into how a British nurse working at an Ebola treatment centre contracted the disease.
Pauline Cafferkey, from South Lanarkshire, had been working with the charity in Kerrytown, Sierra Leone.
Ms Cafferkey is critically ill in a north London hospital after her condition worsened in recent days.
She was diagnosed with the disease after returning to Glasgow a week ago.
Save the Children has issued a statement saying it began a "serious event review" when Ms Cafferkey was confirmed as having Ebola on 29 December.
The review is being conducted by a panel that includes independent health experts and will scrutinise training, safety protocols, how protective equipment is used, and working practices.
The panel's early findings will be made available "as soon as possible", according to Save the Children.
The charity's Sierra Leone director, Rob MacGillivray, told the BBC the investigation would "ensure that we do everything, leave no stone unturned, to be able to as far as possible identify the source of this infection".
'Stigmatised'
The BBC's global health correspondent, Tulip Mazumdar, reports from Freetown that while it is not yet known how Ms Cafferkey contracted the disease, any contact between health workers and the local community takes place under "very strict circumstances".
She spoke to Prof Chris Bulstrode, a retired NHS worker at the Kerrytown centre, who said medics are feeling "stigmatised" and "worried about being quarantined for the smallest reason".
The BBC correspondent also spoke to Luca Rolla, from the Italian-run NGO Emergency, who worked with Ms Cafferkey when she first arrived in Sierra Leone.
"Pauline is a very committed nurse, she was very enthusiastic about this job," said Mr Rolla. "I met the whole group when they were receiving their training - all of them were very well-motivated to come here."
Kerrytown treatment centre
BBC global health correspondent Tulip Mazumdar
Kerrytown was built by the British Army Royal Engineers over two months and opened on 5 November.
It's a sprawling facility on the outskirts of Freetown with the capacity to treat around 80 patients. It also includes a 12-bed centre specifically for treating health workers.
Medics at the centre have so far treated more than 200 patients. More than 70 have survived.
The facility is mainly staffed by local health workers - around a fifth are volunteers from overseas. Fourteen are NHS volunteers, and there are around 40 NHS volunteers stationed throughout Sierra Leone at the moment.
This is the second time a foreign medic has been infected here. In November, a Cuban doctor became unwell and was flown to Geneva for treatment. He survived.
Save the Children says health workers are given rigorous training before treating patients, but points out it's impossible to reduce the risk altogether.
It says it will focus some of the investigation on the use of personal protective equipment.
More than 600 health workers have become infected with Ebola during this outbreak in the three worst-affected countries, of whom over 300 have died - the vast majority of them have been west African.
Ms Cafferkey had been part of a team of medical volunteers deployed to Sierra Leone by the UK government in November.
The 39-year-old is being treated with an experimental anti-viral drug at the Royal Free Hospital in Hampstead.
'Incredibly brave'
Prime Minister David Cameron praised her bravery on Sunday, telling BBC One's Andrew Marr Show: "It's (Ebola) certainly the thing uppermost in my mind today with Pauline Cafferkey in hospital, and all of us are thinking of her and her family.
"And also how incredibly brave these people are, not only doctors and nurses from our NHS but also people from our armed forces who have been working in west Africa in very difficult conditions."
Ms Cafferkey had travelled to Glasgow via Casablanca, Morocco, and London's Heathrow Airport before being diagnosed.
She was screened for the disease at Heathrow and told officials she believed a fever might be developing.
But her temperature showed up normal after seven tests and she was allowed to fly home.
She fell ill the following morning and was admitted to hospital in Glasgow.
The government's chief medical officer for England, Dame Sally Davies, has said the case raises questions about airport screening procedures.
Mr Cameron added the government would listen to her advice on the matter.
Dr Oliver Johnson, who leads a team from King's College London which has been working in Sierra Leone, told BBC Radio 4's Today programme: "The restrictions are already very stringent and erring on the side of caution".
Ms Cafferkey's is the second UK case of Ebola. Nurse William Pooley recovered from the disease in September after also being treated at the Royal Free Hospital.
He was treated with the anti-viral drug ZMapp, of which there are no stocks left anywhere in the world.
But Mr Pooley donated some blood plasma for use in treatments.