Cut back amount of sugar children consume, parents told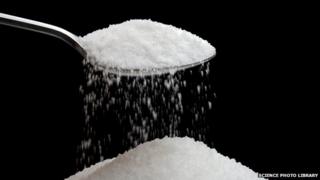 Parents are being encouraged to cut back on the amount of sugar they feed children in a new health campaign.
The Public Health England (PHE) Change4Life campaign offers "sugar swap" tips, including swapping ice cream for yogurt and sugary drinks for sugar-free alternatives.
Health advice is that no more than 10% of a person's energy or calorie intake should be made up of sugar.
But officials fear children between four and 10 are consuming far more.
'Health impact'
Professor Kevin Fenton, national director of health and wellbeing at PHE, said: "Reducing sugar intake is important for the health of our children both now and in the future. We are all eating too much sugar and the impact this has on our health is evident.
"This campaign is about taking small steps to address this. We know from past campaigns that making simple swaps works and makes a real difference."
Meanwhile, a Netmums survey suggests two-thirds of parents are worried about the amount of sugar in their children's diets.
Nearly half believe their family consumes too much sugar, the survey also indicates.
Eating too much sugar can lead to obesity which can cause heart disease, cancer and type 2 diabetes in later life.
It can also cause dental problems. The Epidemiology Programme for England found tooth decay was one of the most common reasons for hospital admissions in children aged five to nine in 2012-13.
Further, figures found more than one in five (22.5%) children in reception class were classified as overweight or obese in 2013/2014.
The Health and Social Care Information Centre figures also suggested over a third (33.5%) of those in year 6 were overweight or obese the same year.
Ahead of the campaign launch, PHE worked with Netmums and the University of Reading to advise 50 families on sugar swaps.
It found on average their sugar intake was reduced by 40% over a month.
Guidelines recommend sugars added to food should not amount to more than 10% of an adult's daily calorie intake, but government scientists say the target should be reduced to 5%.
This lower target would mean a sugar limit of 25g for women (five to six teaspoons) and 35g (seven to eight teaspoons) for men, based on the average diet.
A typical can of fizzy drink contains about nine teaspoons of sugar.