Stansted delays after Ryanair passengers 'go through wrong door'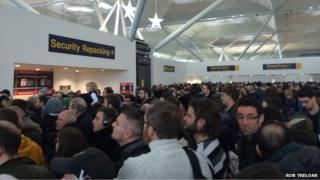 Passengers at Stansted Airport were delayed by up to an hour on Sunday after people arriving on a Ryanair flight went through an exit door "left open in error".
Stansted said passengers arriving on the Lisbon flight at 9:20 GMT had to be processed by departures security before moving to arrivals, causing delays.
Ryanair said its crew had disembarked passengers "to the assigned gate".
An investigation into the incident is being conducted by the airport.
A Ryanair spokesman said: "The crew of this flight correctly directed disembarking customers to the assigned gate.
"However, customers entered the airport through a door which had been left open in error.
"Ryanair fully cooperated with Stansted Airport as it rescreened departing passengers. A number of flights were delayed throughout the day due to earlier issues with de-icing facilities."
Kevin Watt, from Corby, Northamptonshire, said he had dropped off his daughter at Stansted at about 11:00 GMT, because she was flying to Barcelona.
"When we arrived we saw this massive queue," he said.
"My daughter checked in and I stood in the security queue - the queue just kept on growing and growing. We eventually got to the top of the queue but we were delayed by an hour - my daughter's flight was for 12:45."
Mr Watt said his daughter had contacted him an hour after her flight was due to leave, to say it had still not taken off.