HMRC helpline waiting times lengthening, figures show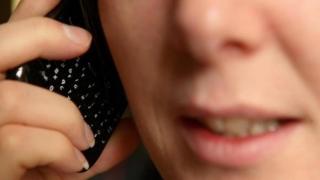 People were waiting twice as long for answers from government tax and benefit helplines in September compared with the previous year, records show.
Average waiting times for HM Revenue and Customs (HMRC) contact centre phone wait times had more than doubled since 2013 to almost 11 minutes.
A suggestion by HMRC that people can submit tax queries via Twitter has been criticised by MPs.
But HMRC said Twitter would complement, not replace, its existing services.
HMRC said it was moving an extra 1,500 staff to answer its phones in January as the self-assessment deadline approached.
It also said it receives about 70 million calls a year and is introducing new technology to help answer more calls quicker at busy times, along with an improvement of its digital services.
Increased wait
Average waiting times for HMRC contact centre telephone queues reached 10 minutes and 53 seconds in September - more than double the five minutes 21 seconds recorded at the same point in 2013.
HMRC's figures showed that 34.5% of calls were cut off, compared with the 20.5% recorded last year. And the number answered in under two minutes dropped from half to a quarter.
Waiting times for callers to tax inquiry lines rose, from four minutes 42 seconds to 11 minutes 51 seconds, while tax credit queues rose from seven minutes 13 seconds up to 14 minutes 28 seconds.
Callers seeking child benefit help waited an average of nine minutes nine seconds compared with five minutes 48 seconds in September 2013.
Jonathan Isaby, chief executive of the TaxPayers' Alliance, said: "These delays are an unfair additional imposition on taxpayers already frustrated with having to navigate the hideously complicated tax and benefits systems.
"Sadly, when we are dealing with a tax code that is over 17,000 pages long, it's little wonder that people need to call for assistance in sorting out their tax affairs.
"If the government would only embark on the wholesale tax simplification we need in this country, the problem of hanging on the phone to the HMRC helplines need never arise."
Twitter criticism
HMRC also said people can tweet general self assessment queries after revealing average call waiting times for its contact centre have doubled since 2013.
But shadow exchequer secretary Shabana Mahmood told the Daily Mail this suggestion "beggars belief".
HMRC said its Twitter account should complement, not replace, its existing telephone and online help.
Ms Mahmood commented: "At a time when people are paying more in tax and have seen their tax credits cut under this Tory-led government it simply isn't good enough.
"It beggars belief that the government's response to taxpayers who can't get through on their helpline is to urge them to publicly tweet about their tax affairs."
And Public Accounts Committee chair Margaret Hodge said the idea people should contact HMRC via Twitter was "laughable".
"No customer-based service should tolerate such a poor service and both ministers and senior management should simply sort this out," she added.
'General questions'
Tory MP Mark Garnier, a member of the Treasury Select Committee, told the newspaper: "Only a small proportion of the country uses Twitter.
"I cannot think of even a simple tax problem that can be summed up in 140 characters. It is just rubbish, naive, stupid and facile comment."
But an HMRC spokesman said it had made it clear people should not use Twitter to discuss any personal tax information.
"HMRC uses Twitter to communicate regularly with its 157,000 followers, including regular Q&As on key subjects.
"The new @HMRCcustomers service is a natural progression from that, and will allow customers to ask us general questions about a range of tax issues.
"The launch of this new service follows a successful pilot and will complement, not replace, existing telephone and online help.
"The service makes clear that it can't deal with questions about taxpayers' individual circumstances and that no personal information should be tweeted to HMRC."