Cheapest rail tickets to be advertised by train operators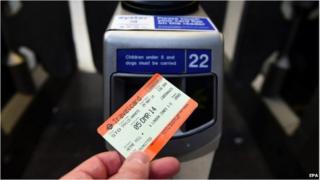 Rail passengers are to be told if they can get cheaper tickets for their journeys, following an agreement by rail companies.
Train operators across Britain will sign up to a code of practice designed to help travellers get the best deal possible.
It follows a summit called by the rail minister, Claire Perry, and comes on the eve of a 2.2% rise in rail fares.
Ms Perry said passengers should get the best possible deal for every journey.
A summit last month with representatives from across the rail industry - including train operators - saw agreement in principle to a new code of practice, which has yet to be fully drafted.
It was proposed following criticism that rail passengers using self-service machines can pay far more than if they go to a ticket office.
The rail companies have now agreed that their machines will be labelled clearly, to inform travellers that cheaper fares for some journeys may be available.
The code will be overseen by the Office of Rail Regulation and it aimed to end inconsistencies between prices available in ticket offices and machines in stations.
The Daily Telegraph says its investigation into the issue found that self-service machines - used to purchase almost a quarter of all tickets sold annually - can offer vastly different fares, making some journeys £100 more expensive.
Ms Perry also said she would not hesitate to hold the industry to account if improvements were not made.
She told the Telegraph there is "no excuse for poor quality information, restricted ticket choice or confusing screen directions at ticket machines".
The BBC's Jane Peel says the government's long-term aim is to get the train companies to update their systems so the machines automatically direct customers to the best price for their journeys.
Fare rises
A spokesman for the Rail Delivery Group, representing Network Rail and rail operators said: "The rail industry's commitment to making it even easier for passengers to get good value rail tickets, including when buying from ticket machines, has helped journey numbers almost double in the last 20 years.
"While the vast majority of people using ticket machines get the right ticket for their journey, we are working hard to make them even simpler and easier to use."
Anthony Smith, chief executive of watchdog Passenger Focus, said: "Passengers will welcome this increased focus on fares and ticketing - our research shows many are confused by ticket vending machines and are unsure if they have the right ticket for their journey.
"This new code of practice should give passengers more confidence when they are buying their ticket and ensure they get the best priced ticket available."
The news comes after the rail industry recently announced that a 2.2% rise in average rail fares will come into effect from 2 January.
The rise is the lowest for five years after the government said regulated fare rises would be pegged to July's measure of Retail Price inflation (RPI) rather than capped at RPI plus 1%.
Northern Ireland rail fares are set separately and have not risen since 2013.
Similarly in Scotland, there will be no rise next year in off-peak fares, which have been frozen since January 2013. Peak fares will rise by 2.5%, the same as the July inflation rate. It means on average overall rail fares will rise by 1.5%.