Goldman Sachs paid highest bonuses to staff in 2013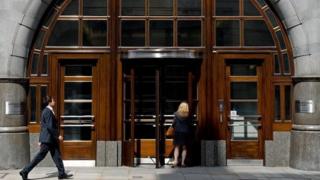 US investment bank Goldman Sachs paid the highest bonuses to senior staff among banks operating in the UK in 2013, according to research by Reuters.
Its employees in key senior or risk-taking positions received £2.57m bonuses each on average - roughly twice the amount handed out by other banks.
The TUC said it was time for their pay to come "back to planet earth".
Reuters compared the wages paid by 13 leading investment banks based or working in London.
RBS paid its code staff - risk-takers and staff in senior positions - an average of £600,000.
Goldman Sachs' bonus award was also found to exceed the average bonus paid out by the bank to its US-based staff.
The data showed 2,600 City employees were paid more than £3.4bn in 2013 - almost 50 times average annual pay in Britain.
Analysis by BBC business correspondent Joe Lynam
That Goldman Sachs paid its top executives and risk-takers twice as much on average as rival banks like JP Morgan and Citi, may make it easier for Goldman to lure the industry's top talent.
These bonus figures may also cause internal friction within Goldman when American code staff see they're making less money than their colleagues on this side of the pond.
Ironically, these figures may yet prove to be the high-water mark for big payouts in the UK. Britain - home to most big investment banks in Europe - must now comply with new EU rules which limit bonuses to the size of basic salaries (unless shareholders specifically agree an exception).
The effect of that bonus cap - according to HM Treasury and the British Bankers' Association - will see a surge in basic salaries for top banking staff so that the overall pay package for individuals will remain roughly the same, i.e. astronomical compared to the rest of the economy.
The figures analysed related to earnings in 2013 before an EU-wide cap on bonuses came into force.
The cap limits a bonus to no more than the employee's fixed salary or double that if shareholders specifically agree.
The UK Treasury appealed against that cap in the European Court of Justice but has since dropped the matter.
The TUC's General Secretary, Frances O'Grady, said: "It is time that their pay came out of the stratosphere and back to planet earth."
She called for employees to be given a voice on firms' remuneration committees in 2015.
Goldman Sachs has declined to comment.