Murdered aid worker's brother seeks to continue legacy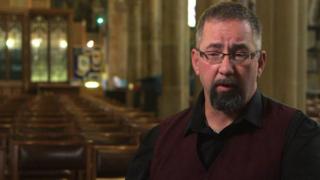 The brother of murdered aid worker David Haines has been reaching out to people of other faiths across the UK in the months since his death.
Mike Haines told Songs of Praise on BBC One he wished to continue his brother's legacy of serving others.
David, 44, who was raised in Perth, was kidnapped in Syria in March last year. Islamic State militants released a video of his beheading in September.
Mr Haines says his brother should be remembered for the good work he did.
"It's important for my family and I that David isn't remembered for his brutal murder," he said.
Shortly after his brother's death, Mr Haines said his first reaction could have been one of hatred for the kidnappers and for Islam.
But, he said that while radicalisation remained a threat, the Muslim faith and people of Middle Eastern descent were not to blame for the Islamic State group.
Mr Haines added: "David was always there for me and I was always there for him. Apart from being brothers we had a good friendship as well."
He said his brother "went to places to help people, no matter faith, creed or background".
In the programme, Mr Haines is seen meeting worshippers at Bradford Central Mosque.
He is accompanied by the Bishop of Bradford, the Right Reverend Toby Howarth, and clasped hands with Zulfiqar Karim from the Bradford Council for Mosques.
Speaking of his Christian faith, Mr Haines said: "We all need to have our own beliefs. I have talked to God many times.
"He has given me the strength those times when that blackness in your stomach and the hollow feeling of David's death... he has given me the strength to see that for all the evil that's been done, there is an amazing amount of good in our nation."
Songs of Praise is on BBC One at 15:10 GMT