Rail delays: Passengers voice frustration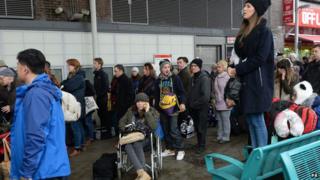 Rail passengers have been speaking of their frustration after overrunning engineering works saw services thrown into chaos.
No trains have been operating between Paddington in west London and Reading for most of the day, affecting routes to the west country and Wales.
And at Kings Cross in London, which serves northern and eastern England and Scotland, all services were cancelled. There were long queues at Finsbury Park station as passengers waited for trains to Peterborough and further north.
---
Ken - Peterborough to Edinburgh
The 12:15 train from Peterborough to Edinburgh left Peterborough at 13:05 and was packed.
An elderly German couple could not believe it. No chance of getting to the buffet car and when we finally could it has been closed since Newcastle.
Only started getting seats from Doncaster and York although people are still standing in the doorways.
We could have been on alternative less crowded trains from Peterborough but these came and went with no information from staff who seemed to be leaderless.
Appears there was no management involvement today. Perhaps still on their hols.
It was freezing waiting an hour on the Peterborough station platform. There are not enough waiting rooms. Soon be home but no Christmas spirit on Network Rail. Train almost an hour late at Edinburgh.
---
Sally Bridges - Finsbury Park to Peterborough
People were standing in the aisles and vestibules between carriages. Although it was really busy, people were generally just relieved to be on a train.
The atmosphere was very friendly with passengers chatting and helping each other with bags and giving up seats to others who needed them more.
I'd boarded the train at Finsbury Park but passengers who joined at Peterborough said they'd been told the train was empty so there would be plenty of seats. Clearly not the case.
Most of us had been waiting on platforms for more than an hour without adequate information. The other thing to add is that there were not enough staff to provide information.
I got to Finsbury Park at 09.50 and was told there would be no train until 11:00 and there were no East Coast staff available to tell us where trains were going. Website not up to date so more people kept arriving. Eventually left without knowing where it was going at about 11.20.
---
Cheryl Oxley - Finsbury Park (intending to go to Bradford)
I was planning to visit my friend in Bradford and her family for the first time before travelling on to Liverpool to see friends I hadn't seen for over a year.
Finsbury Park was very busy and passengers were having to carry luggage and small children up a steep spiral staircase to get from the Tube platform and up towards the train platforms.
Once you got to the top of the spiral staircase you were greeted with a tunnel full wall-to-wall of passengers - elderly passengers, young children and babies crying, prams, luggage and you were not able to reach any of the platforms.
There was no one on hand to tell you what to do or where to go. We were all stuck in this tunnel and it was getting busier and busier as passengers were still arriving and I started to get slightly anxious as I could see a real crowd management problem starting to occur.
Several rail staff pushed their way through the tunnel of passengers but they were all pretty rude and unhelpful when asked any questions. Some of the staff members were really acting in an unprofessional way and they didn't seem to know how to handle the situation.
I was standing in the bitter cold trying to work out if any of the destination options would get me close to Leeds or Bradford. I overheard I could get a train to Peterborough and change there and there was a Peterborough train on the screen but then that never materialised.
By this point I was very tired and cold... I decided then that I'd had enough and would make my way back to Reading. I had to leave the platform and go back down into the tunnel full of people.
On exit from Finsbury Park there were a huge crowd of several hundred people standing outside. I had to make my way through and round to the tube entrance and make my way back across the city to Waterloo so I could go back to Reading.
I cannot believe I've had to totally give up on my plans that I had been looking forward to. I'm totally exhausted and too worried to chance travelling again tomorrow.
---