Snow falls amid Met Office weather warnings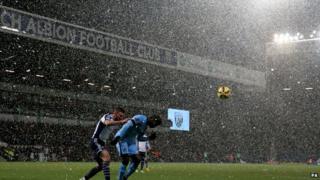 Snow and sleet have been falling in parts of the UK, causing travel disruption in some areas.
Leeds Bradford Airport is currently closed, and flights into Liverpool Airport were diverted to Manchester earlier while snow was cleared.
Many roads have also been affected by snow and rain.
An area of rain, sleet and snow has been moving east across Northern Ireland, Wales, central and northern England and southern Scotland.
BBC Weather presenter Nina Ridge said snow had been "really quite heavy" in some areas, with a "few more centimetres" still expected in parts of Yorkshire and the north-east Midlands.
She said it would be "much milder" further south, but heavy rain and high winds were expected in many southern areas.
The rain and snow was expected to clear away in the early hours of Saturday, she added, though temperatures were expected to fall across the UK and there could be more sleet and snow for many parts of Scotland.
'Almost undriveable'
Liverpool's John Lennon Airport said four flights from Malta, Berlin and Bucharest were diverted to Manchester Airport, while a fifth from the Isle of Man returned to the island's airport.
Cheshire Police said conditions on some roads were "treacherous", while Staffordshire Police tweeted: "Please only travel tonight if necessary."
In Leek, Staffordshire, the Met Office said 10cm (4in) of snow had fallen.
Motorist Rob Simpson told the BBC said some roads in Yorkshire were "almost undriveable".
"I was on the M1 near Rotherham in South Yorkshire and it's taken me about two hours to get home to Leeds," he said.
"The journey normally takes about 40 minutes."
The snow also created difficult conditions at football matches, including in the West Midlands where West Bromwich Albion took on Manchester City.
The Met Office has issued yellow warnings - meaning "be aware" - for snow and ice for much of Scotland.
There is also an ice warning for Northern Ireland and a snow warning for many parts of England and eastern Wales.
A cold weather alert for parts of England has also been issued, with the Met Office warning of a 90% chance that severe weather between 15:00 GMT on Friday and 12:00 GMT on Wednesday could "increase the health risks to vulnerable patients and disrupt the delivery of services".
The amber - level three - alert is one below a national emergency and indicates social and healthcare services should target "high-risk" groups, such as the very young or old, or those with chronic diseases.
Public Health England also urged people to look out for vulnerable friends and family and neighbours. during the cold snap.
---
Contact us
How are you being affected by the snow where you are? How has the weather caused you to change your plans? You can share your experiences by emailing haveyoursay@bbc.co.uk.
If you are willing to be contacted by a BBC journalist, please leave a contact number.
Send your pictures and videos to yourpics@bbc.co.uk or text them to 61124 (UK) or +44 7624 800 100 (international). Or you can upload here.
Read the terms and conditions.
---