The volunteers cooking up hot meals for children at Christmas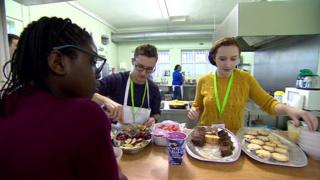 Free school meals help almost two million children in the UK during term-time, but when schools are closed, so are the kitchens.
To help stop children going hungry when there are no school dinners, a network of church-goers is working to fill the gaps.
The charity Make Lunch is attracting volunteers across the country to cook hot lunches during the school holidays.
In a simple kitchen, three volunteers are chopping tomatoes, onions and mushrooms with a speed born of long practice. One of them, Modupe Falase, works as a cook in a school, and during the holidays she volunteers to do yet more cooking - this time, for local children who otherwise might go without a hot meal.
The hall itself is festooned with balloons, but the pinboards on the walls bear rather more sombre messages in this season of goodwill during which some parents will stretch already strained family finances to give children a Christmas treat. Some posters offer families help with debt, or invite them to a hot Christmas lunch.
At Socketts Health Baptist Hall Church in Grays, Essex, it is not quite the feeding of the five thousand, but the volunteers have produced vats of hot pasta plus healthy salad, and fruit for pudding.
Like Modupe, all here are giving their time and their energy for free to the Make Lunch kitchen, one of the wider Cinnamon network of Christian charities.
"I think it's a very sad thing that children sometimes have to go without food," says Modupe. "It's heartbreaking and I feel we need to do something to stop it."
"When I heard about Make Lunch, I thought 'I can give my time and my skills, and it's good to know the children leave here with a belly full of healthy food and they go home happy'."
One of the older children here is 16; she's brought her younger brother and his twin sister to have a cooked lunch. She explains in a matter-of-fact way that their mother is ill, and unable to work.
It's clear that she has taken on much of the responsibility of looking after the younger ones. Before they sit down to eat, she directs a game of Twister, which the twins giggle their way through as they become hopelessly entangled.
'Same as everyone else'
Their sister says she likes coming here so they can meet other children - and it helps with the family finances.
"We get free school meals and it's all right but... I don't think anyone knows, I think they've done it (giving school meals) discreetly, which I think is a good idea so that it doesn't embarrass people that they get free school meals.
"But at the same time it doesn't bother me; I think I'm just the same as everyone else."
One of the boys here is 13 and a firm Manchester United supporter - and is making the most of the table football game. He too comes here for the friendship as much as for the hot food, although he says he likes that too.
"Our oven broke down at home, so we've had to have microwave meals," he explains. "So I thought I'd come and have some food here."
A mix of children from the area eat together here, which helps take away any sense of embarrassment about accepting free food.
The idea for Make Lunch kitchens came to Rachel Warwick three years ago after seeing a programme on child poverty in the UK. She says that it remains an often hidden issue in a wealthy country, in which families in debt or unemployed can find it hard to ask for extra help, even when they're struggling.
She says: "It's hard to believe, in a country like this, but it's different for different families. For some children, there'll be no food in the house and nothing to eat."
'More pressure'
"For other children, there might be some food but not quite enough to go around. We spoke to a lot of parents who go without food themselves so that the children can eat."
"The children might not notice," she adds, "but there's more pressure on families during the school holidays, so for us to feed them means the money can be spent on other things."
There are now some 40 kitchens like this run by Make Lunch, and staffed by volunteers in England, Scotland and Wales, as well as other organisations offering similar help.
So far this year, the Make Lunch kitchens have served some 11,000 hot meals to 2,000 children during the school holidays when they don't have access to free school meals, at a cost of between £1 and £2 per child.
Not every child will be able to celebrate with a hot Christmas dinner this week, but at least some of those in need have found somewhere that offers companionship and a hot meal to tide them through the leaner days.