Ebola outbreak: First UK reservists fly to Sierra Leone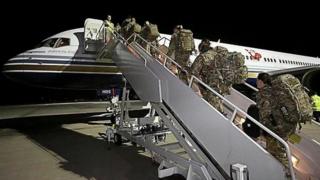 The first British reservists to fly to West Africa to tackle the Ebola outbreak have left for Sierra Leone, the Ministry of Defence has said.
Sixteen reserves left RAF Brize Norton on Saturday along with 100 UK regulars and members of Canada's military.
They will take over duties at 22 Field Hospital, caring for healthcare workers who have contracted Ebola.
Minister for reserves Julian Brazier said they would join others doing "crucial work".
The reserves were trained in how to operate protective equipment in a hangar converted into a mock-up field hospital at Strensall Barracks.
The nine-day course saw them treat simulated casualties.
Captain Eric Teague, of 202 Field Hospital, said: "The training we've had has exceeded my expectations. It's filled us with confidence in the equipment we'll be using and in the routines we will be following to keep us all safe."
There are around 800 UK military personnel in Sierra Leone.
They include planners and engineers, who are overseeing the final stages of the building of infrastructure for a total of 700 beds.
More than 6,800 people have died this year after contracting Ebola, mostly in Sierra Leone, Liberia and Guinea.