Justin Welby 'trying to bridge gay marriage split'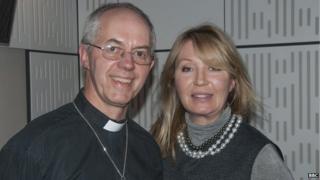 The Archbishop of Canterbury has said he is trying to bridge a split in the Anglican Church over same-sex marriage.
The Most Rev Justin Welby told Radio 4's Desert Island Discs he wanted to listen to both sides. He also admitted to moments of frustration on the issue.
He did not discuss his previous opposition to gay marriage, saying it would be "inappropriate" while the Church was debating it.
He also told the programme about growing up with an alcoholic father.
'Listen carefully'
On gay marriage, he told presenter Kirsty Young: "When I listen to people I know that I'm listening to people for whom not just the issue of sexuality but the whole way in which the Church lives and exists and reaches out to people, what it looks like to be a holy church, is something on which they feel passionately and are deeply, deeply, deeply disagreeing."
He added: "If you love them you listen carefully".
The archbishop was also asked why he opposed same-sex marriage in the past.
He told the programme: "I'm really not going to answer the question very well because we're now into conversations within the Church, both globally and locally, and I think if I weigh in at this stage it's inappropriate."
Earlier this year, the archbishop said the Church of England accepting gay marriage could be "catastrophic" for Christians in other parts of the world.
He warned Christians in Africa had been killed by people who associated their faith with homosexuality.
Same-sex marriage became legal in England and Wales in March, but was not supported by the Church.
The law prohibits the Church of England from performing same-sex weddings.
The Bishop of London, the Right Reverend Richard Chartres, said he and the archbishop did not agree on the subject of same-sex marriage.
But, speaking to BBC London 94.9, he applauded the archbishop for making "a course of properly disciplined, facilitated conversations in the Church one of the ways in which we're going to handle this issue in the years to come".
'Grim Christmas'
The archbishop also told the programme dealing with his alcoholic father had been "very painful".
He recalled being left alone one Christmas while his father Gavin stayed in bed.
"It was a grim day," he said.
And he recalled his mother taking him for tea with Sir Winston Churchill, during which the former prime minister cried.
The archbishop's mother, Jane Gillian, had been Sir Winston's private secretary.
"I remember a very, very old man," he said. "And he cried, I don't know why. And because he cried, I cried. And then we sat and had tea."
He added: "I've talked to her about it since, and she said 'Well, he cried quite a lot'."
• You can hear Desert Island Discs on BBC Radio 4 on 21 December at 11:15 GMT or listen again later via the Radio 4 website