Ex-services personnel to get more help in prison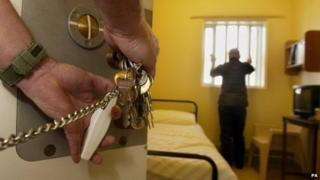 Former members of the armed forces who are sent to prison are to get more support, the government has said.
From January, all new prisoners will be asked if they have been in the forces so ex-service personnel can be given specific rehabilitation programmes.
The scheme, for prisons in England and Wales, follows a review into how the justice system deals with veterans.
Justice Secretary Chris Grayling said a "huge debt of gratitude" was owed to those who had served their country.
The government said the measures would identify and support veterans when they enter and leave prison, and give them a better chance of rehabilitation.
Prisons will be given new guidance about helping former servicemen and women while they are serving their sentence.
'Tailored approach'
Mr Grayling said: "We do know that some ex-forces personnel end up in our criminal justice system.
"And what I want to make sure is that we know who they are, we know what circumstances have taken them there, and we do everything we can to prevent them going back there to help them get their lives straight."
The justice secretary added: "These are people who served our country, often served our country in many difficult and stressful situations. The least we can do is try and ensure that we look after them and make sure that we help them get their lives back together again."
He told the Murnaghan programme on Sky News that "most of the people who serve our country do not end up in the criminal justice system" and that a "very tiny minority" were sent to prison.
But former prisoner Mark Johnson, founder of charity User Voice which works to reduce reoffending, told BBC Radio 5 live it was not right to give former servicemen and women special treatment.
"I can't buy into a polarisation of this issue - of picking out, singling out, one cohort of a population inside a British prison," he said.
Mr Johnson added that it was "bizarre" that two prisoners might be facing the same difficulties - for example, post-traumatic stress disorder - yet one could be offered more help if they had been in the armed forces.
Professor Neil Greenberg, military lead at the Royal College of Nursing, said: "The fact that we take people into the armed services who are perhaps at times a little bit more likely to be aggressive or impulsive than the general population means we have to do the right thing in trying to support them when they have difficulties - both in service and, importantly, when they leave service and get into trouble with the law."
The review by Conservative MP Stephen Phillips QC was published as part of the government's Armed Forces Covenant, which sets out the relationship between the UK and its military.
His report found that veterans were less likely to enter the criminal justice system than other people, but more detail was needed on how many were going to prison.
'Reoffending risk reduced'
"We were reassured to find that if you have served in the armed forces, you are actually less likely to find yourself on the wrong side of the law," he said.
"But we cannot lose sight of the needs of the minority of veterans who do end up in the criminal justice system.
"That's why it is vital for them, their families, and our communities that more is done to look at who they are and how we can best support them."
He said the system was failing to identify far too many veterans because either the question was not asked or they were reluctant to give such information.
Shadow justice secretary Sadiq Khan welcomed the report's recommendations.
He said: "We have been campaigning on this important issue for some time now and it is about time the government did more than pay lip service to the needs of veterans.
"We owe a debt of gratitude to former members of our armed services. Most go on to have constructive lives after leaving the armed services but some can drift into a life of crime and we need to do more to prevent this."
Former Royal Marine Trevor Philpott, founder of the Veterans Change Partnership - a project aimed at helping offenders who are former servicemen or women - said more needed to be done to help people adjust to civilian life when they leave the forces.
He said: "Because they put their lives on the line for us, we owe them in helping them to make that transition back into civilian life, into a more productive life."
Offenders' families will also be offered support, Mr Grayling said.