Man from High Wycombe appears in court on terror charge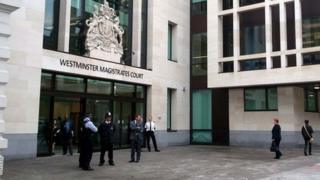 A man from Buckinghamshire has appeared in court charged with arranging the availability of property for the purposes of terrorism overseas.
Mohammed Saboor, 24, of High Wycombe, was arrested in the town on Wednesday by officers from the South East Counter Terrorism Unit (SECTU).
Police said the "pre-planned" arrest involved foreign conflicts and was not linked to an immediate UK threat.
He was remanded in custody until 9 January by Westminster magistrates.
The case will next be heard at the Old Bailey.
Police said Mr Saboor has been charged under section 17 of the Terrorism Act 2000 with providing property, knowing or having reasonable cause to suspect that it would or may be used for purposes of terrorism.
"I would like to again reiterate that this arrest was in connection to activities overseas and was not made in response to any immediate threat to public safety in High Wycombe," said Superintendent Ed McLean, from the SECTU.