Civilian police strike over pay dispute cancelled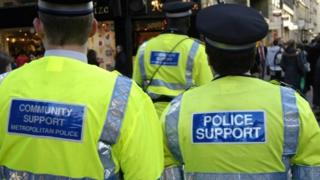 A planned 24-hour strike by civilian police workers in England and Wales has been called off, the Unison union says.
Its members, including police community support officers, are unhappy with a 1% pay increase offer. They are calling for a 3% wage increase.
The strike has been called off pending further negotiations between the union and employers.
Unison general secretary Dave Prentis said its members deserved a salary reflecting their "crucial role".
A month-long ban on voluntary overtime, due to start on 5 January, has also been withdrawn to allow further talks to take place.
Mr Prentis added: "Suspending the strike action provides a window of opportunity for positive talks between Unison and the employers.
"Unison is serious about getting a better deal for police staff this year. Our members play a crucial role in keeping our communities safe and they deserve a salary that recognises this."
Unison members in the police service carry out roles such as 999 call workers, scenes of crime officers, fingerprint experts and financial investigators, among others.
The union represents 30,000 police staff in England and Wales.