Police in England and Wales to get 5% funding cut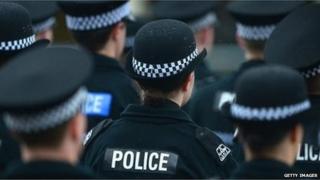 Police forces in England and Wales will have their central government funding cut by almost 5% in the next financial year, the Home Office has confirmed.
Policing minister Mike Penning said there would be a cash reduction of £299m in the overall 2015-16 police funding budget, compared with 2014-15.
But the Independent Police Complaints Commission (IPCC) will get a £30m funding boost to take on more work.
Labour said the government had "systematically undermined" policing.
Mr Penning said spending of £8.19bn in 2015-16 was a real-terms reduction of 4.9%, "maintaining" a level of cuts announced by Chancellor George Osborne last year.
He said the 43 forces in England and Wales were facing "many challenges" but the government would always ensure they had the "resources they need for their important work".
Some funding has been allocated for specific areas where Mr Penning believes there is a "national policing interest".
This includes "maintaining funding for counter-terrorism policing of at least £564m", allocating £70m to the Police Innovation Fund and the extra money for the IPCC.
'Going backwards'
It is the second consecutive annual funding increase for the IPCC.
In 2014-15 the organisation doubled its number of investigations staff, and is on course to start almost twice the number of cases compared to last year, Mr Penning said.
The £30m extra for 2015-16 would allow it to deliver "significantly more independent investigations," he added.
Labour's shadow policing minister Jack Dromey said: "The British model of policing, neighbourhood policing and building a real relationship with local communities is being systematically undermined by the Tories."
He said former progress on tackling crime and getting justice for victims was now "going backwards", while 999 response times were "up to 30% longer".
Labour would abolish police and crime commissioners and require forces to work together to "make the savings they need", he added.
The Association of Police and Crime Commissioners said the funding announcement would mean "maintaining a strong frontline presence will inevitably become much more challenging".
'Shrinking budgets'
Sir Huge Orde, president of the Association Chief Police Officers, said forces had succeeded in reducing overall crime while coping with cuts - but he said it would "increasingly difficult to maintain performance levels".
Speaking about the money allocated to specific areas such as the Police Innovation Fund, Sir Hugh added: "Most forces would prefer that this money was left in their budget to spend where there is most need in their force."
All forces in England and Wales will have their funding cut by the same percentage.
The chief constable of Lincolnshire had previously warned his force would be "unviable" in three years due to cuts.
On Monday, the Met Police Commissioner Sir Bernard Hogan-Howe said forces faced "years of more austerity and shrinking budgets" and needed to merge with other emergency services.